West Bend, WI – Alliance Services, Inc. in West Bend is a top-notch healthcare staffing agency.

The locally-owned company has earned the Joint Commission's Gold Seal of Approval.
Alliance Services has developed a reputation as the "go to" agency for excellent rates, flexible terms and finding the right "fit" for your organization.
Our responsibility to our healthcare facility partners goes beyond delivering a qualified employee to fill an open shift or contract. We continually evaluate the job performance of the healthcare workers we employ throughout the term of their assignments.
This real-time feedback allows us to ensure that our clients are 100% satisfied.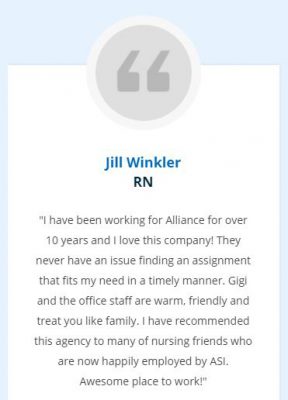 Our employees enjoy the flexibility, excellent pay rates and benefits, and convenient work assignments that working for Alliance Services offers.
Our employees can choose from a variety of work assignments including per diem, local contracts, part-time, full-time and travel assignments.
Staffing coordinators are available 24 hours a day, 7 days a week.
Click HERE to learn more about opportunities at Alliance Services, Inc.