Clinical research study underway at Spaulding Clinical in West Bend.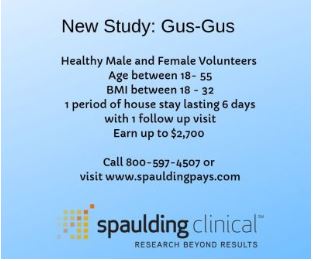 Those who qualify and complete the study may be eligible to receive payment of up to $3,205 or $2,280, while enjoying ample recreation amenities and comfortable volunteer suites.
Click HERE for more details.
Spaulding Clinical Research, LLC is a global CRO providing Phase I – IV drug development services to the biotechnology and pharmaceutical industries. Spaulding Clinical Research operates a 200-bed Clinical Pharmacology Unit, Cardiac Core Laboratory and provides full Biometrics/Scientific Affairs services.