November 11, 2019 – West Bend, WI – Under cloudy skies with a brisk wind and temps in the low 20s, neighbors gathered in the Old Courthouse Square on Fifth Avenue and Poplar Street to pay their respects at the annual Veterans Day ceremony.
"You'll be happy to know I've amended my speech from four pages to one page," said veteran and master of ceremonies John Kleinmaus.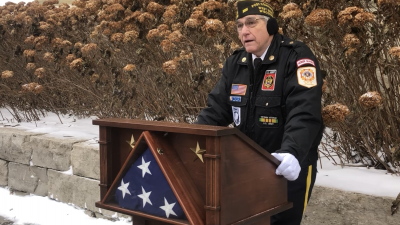 For about 10 minutes Kleinmaus spoke of the gift of freedom of speech. "The First Amendment of the Constitution was put there by our founding fathers that freedom of speech would be guaranteed because it is so critical to freedom itself. Why is the debate being driven to the level of the individual's freedom and the individual feeling good and protesting. It is important not to lose the focus here; the Golden Rule applies to 'love your neighbor as yourself' and 'man created in the image of God.' That requires respect and yet they're trying to take that away.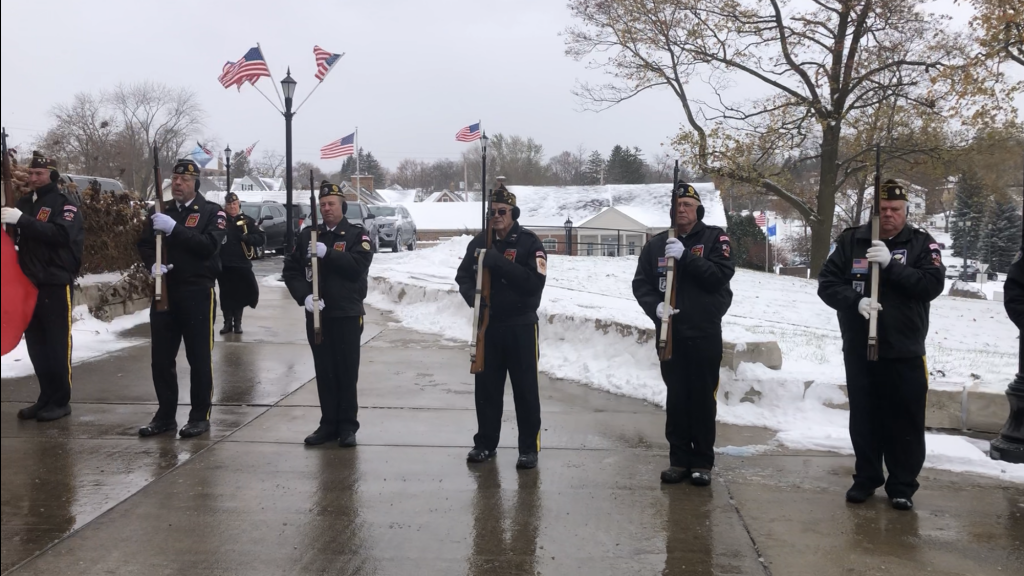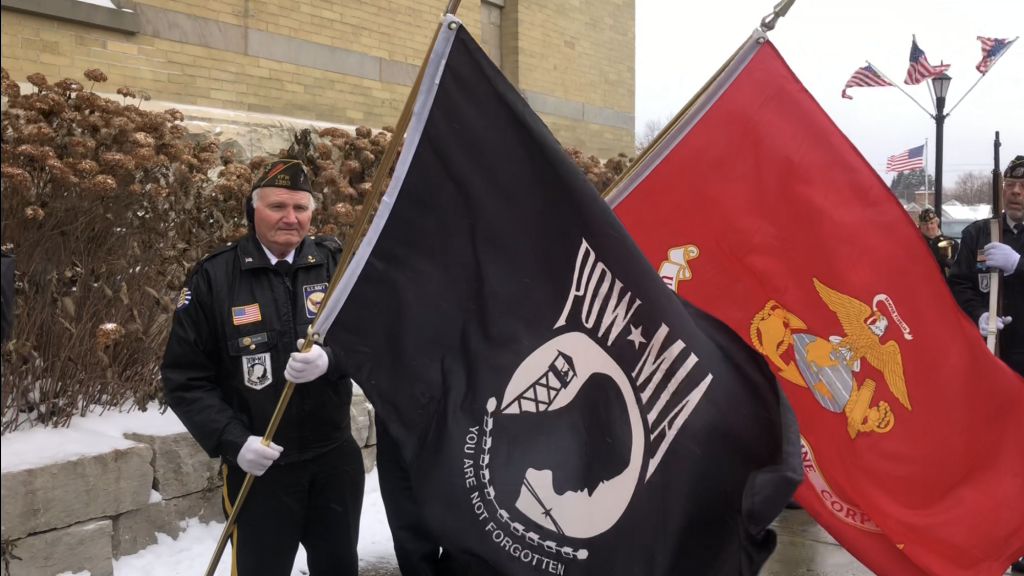 WWII veteran Joe Zadra, 97, was the oldest veteran at Monday's ceremony. Zadra was 20 years old when he enlisted in the military. He served in the Army in the 19th Tank Battalion, 9th Armored Division, during World War II from 1942 to 1946.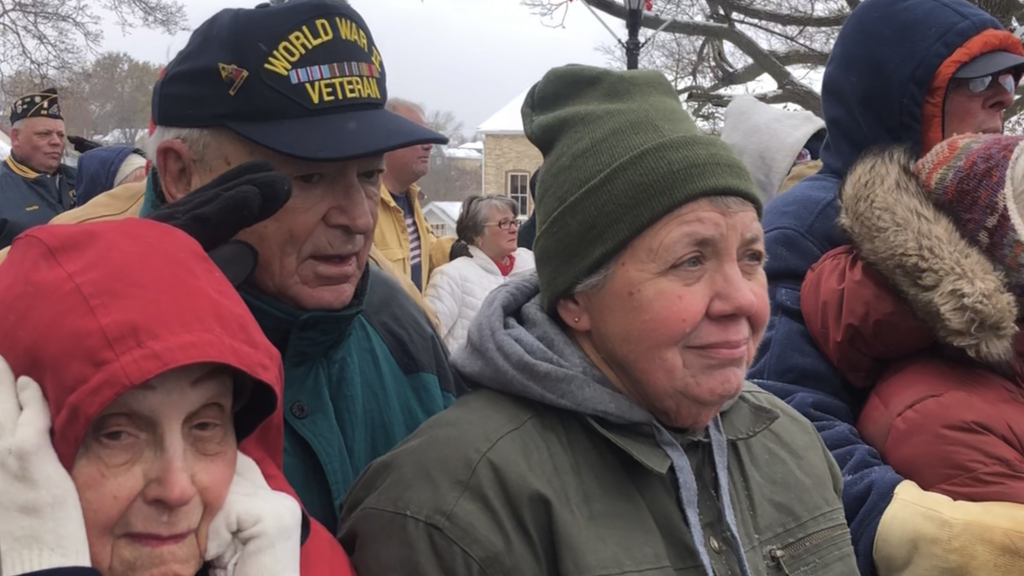 Zadra was interviewed in 2015 by the Wisconsin Veterans Museum Research Center. A portion of that interview regarding his involvement in the Battle of the Bulge is below.
"I came down with pneumonia about that time. I hadn't had much sleep or anything for a few days. I was evacuated, but before I was evacuated, and we had driven up there, coming back. Then the ambulances and trucks and so forth were coming from Neufchâteau, not a large town, but all the way from Luxembourg City, just convoys, to pick up all the wounded in Bastogne. There were I think 15,000 troops in that area, and most of them were underground. We have a picture of it. But the city itself, a large area that's vacant, like roadways, but on each side tall, tall buildings, and all the wounded were taken downstairs. Fortunately they had basements, and they had medical attention.

Otherwise it would have been more serious type casualties. They were evacuated as we saw. In the same time, the Germans, of course, they were completely—they weren't all killed, but they had trucks picking up the dead already. You'd look at the back end of the truck, it looked like cordwood, you know, the legs hanging out there and so forth. It was very distressing to see that. That's what I remember of the Battle of the Bulge. We were sent—I went to a temporary field hospital. Then my fear was that I would not be able to join my unit. Fortunately my unit and…..  Click HERE to read the rest of Joe Zadra's story.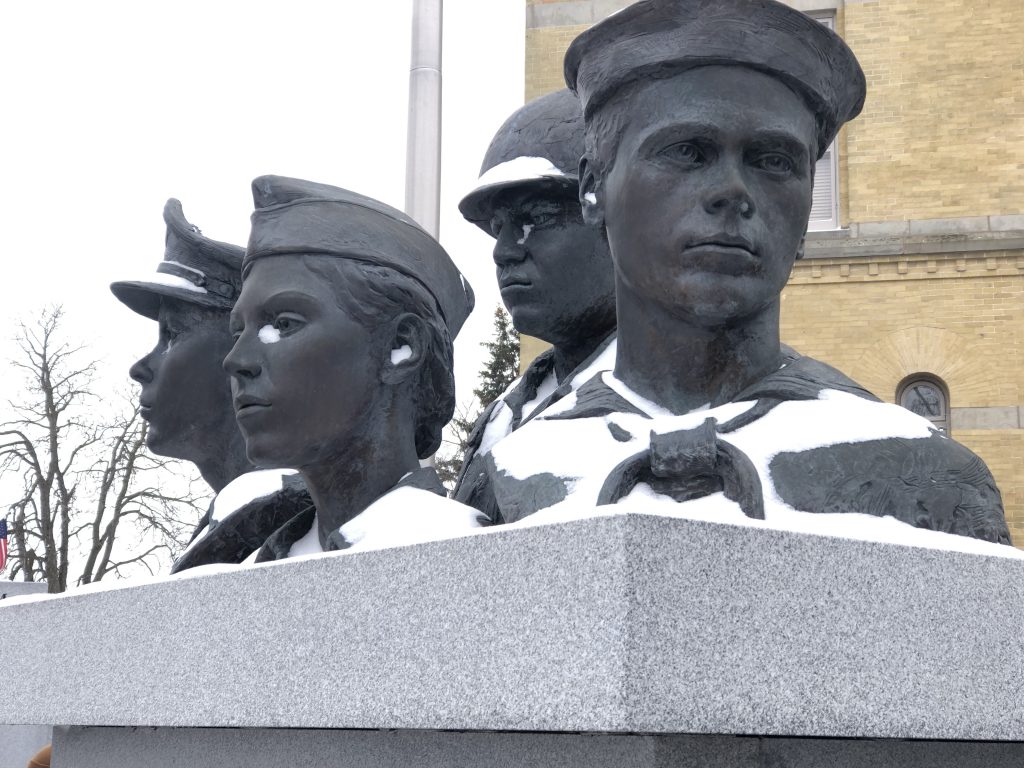 Thank you to all veterans for your service.