September 10, 2020 – Village of Slinger, WI – "It was the biggest shock last week," said Village of Slinger Administrator Margaret Wilber. "Casey's called and is stopping the project."
The project in question is the razing of the Casey's General Store and car wash, 651 E. Washington Street, in Slinger.
The demolition of the corner gas station began Wednesday, September 2, 2020.
Plans had already been approved for development of a new store until a voicemail was left Thursday, Sept. 4 with Gregory Darga the Village Building Inspector/Zoning Administrator. That's when the project went sideways.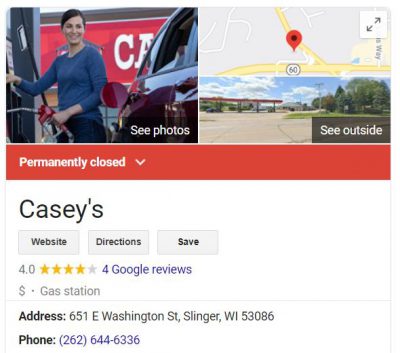 "Mid-day we were informed that Casey's cancelled the project," said Darga.  "So, at this point they will complete the demolition, restore the site to grass and then there won't be anything there for the foreseeable future."
Wilber pointed out that Darga's voicemail was from the project manager, so someone not related to Casey's.
"They were called and ordered to stop the project," said Wilber.
Village officials spent all day Friday, before the long Labor Day holiday weekend, trying to contact someone at Casey's.
"I finally spoke with a couple of people who confirmed an executive decision had been made and they weren't going to continue at this time," Wilber said. "They were going to restore the lot and the decision hadn't been made yet whether they would put a new building up or put it on the market."
"It was quite a surprise because they went through all the trouble of starting the teardown," Wilber said.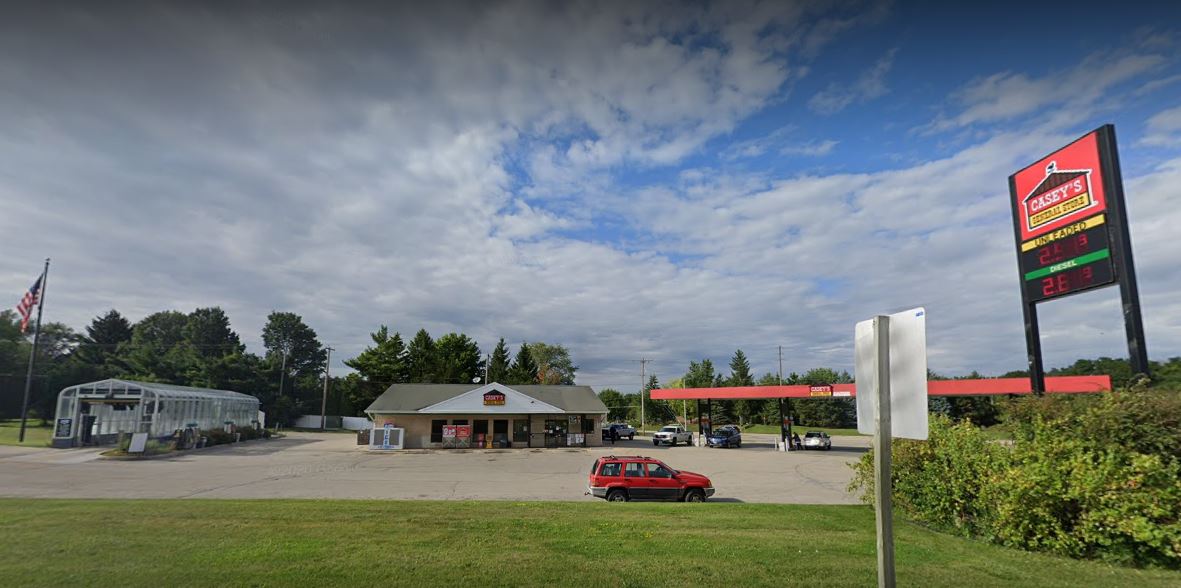 The Village of Slinger Plan Commission approved plans for a new Casey's convenience store and car wash in July 2019. "It was approved almost a year ago," said Wilber. "At that time, the Plan Commission approved the site, architectural, lighting, landscaping, and stormwater."
The property was purchased by Casey's General Store in December 2018. Tri-Par previously owned the 1.92-acre site. The sale price was $850,000. The latest assessed value is $1.292 million.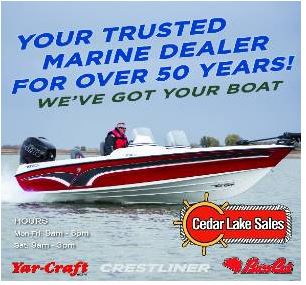 Wilber has been the Village Administrator for a year but has been with the Village for 20 years. "This has completely taken us by surprise," she said. "It did cross our mind that the project may have been paused because of Covid… but…"
Darga has been with the Village for eight years. "I've never seen anything like this," he said. "The permits for the building had been issued and the demolition permit had been issued and after months and months of trying to get this thing going, finally they were starting and as soon as we started they pulled the project."
"We're very disappointed," said Wilber. "We're going to try to keep in touch with Casey's and monitor their progress and continue to get updates on the plans."
A representative for Casey's, Jim Sklada, told Wilber there had been no decision whether the property would be put up for sale.
A spokesperson for Casey's said, "We are not planning to proceed with construction as we are focusing store development efforts in other areas. We appreciate the support the Slinger community had for this store.  We will continue to work with the local Village and ensure the site is in good condition."
In neighboring West Bend there are three Kwik Trip gas station projects that have been put on hold. Click HERE to read more.
More information will be posted when details become available.