VIDEO | Volunteers welcome at Clean Up at The Bend
West Bend, WI – Jim Walters made a unique find as he was walking in the river off Auxiliary Court in West Bend.
Walters thinks the 12-spoke wooden wheel dates to early 1900s; possibly 1910 – 1915.
He found it while walking in the river behind the Seven-Up Bottling Company on W. Kilbourn Avenue.
There are some forums on the Internet that discuss old wooden wheels.
An interesting one for Buicks from the 1920 – 1930 looks darn close to what Walters found.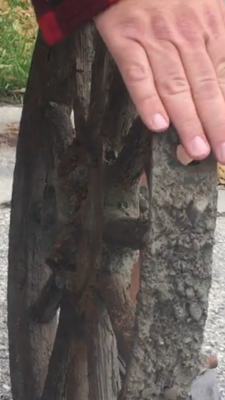 One of the theories on the wooden wheel is there used to be an old Schwartzburg Chevy-Olds dealership on S. Main Street. "People used to clean up by tossing things out of sight and sometimes that meant into the river," said Walters.
In an effort to try and remedy over 100 years of waste dumping, Walters is putting together a Clean Up At The Bend event on September 14.
The community is invited to take part and volunteer.