February 6, 2023 – Washington Co., WI – State Assembly Rep. Janel Brandtjen (R- Menomonee Falls) sent a letter to Washington County Supervisor Carroll Merry on February 1, 2023, regarding the proposal to pave over a portion of wetland at CTH E and CTH K in the Town of Erin.
Brandtjen's district includes a section of Washington County and the Town of Erin. The proposal she is referencing is going before the County Board as part of an effort to erect a trailer, install sewer and water as a potential future home for a violent sex offender.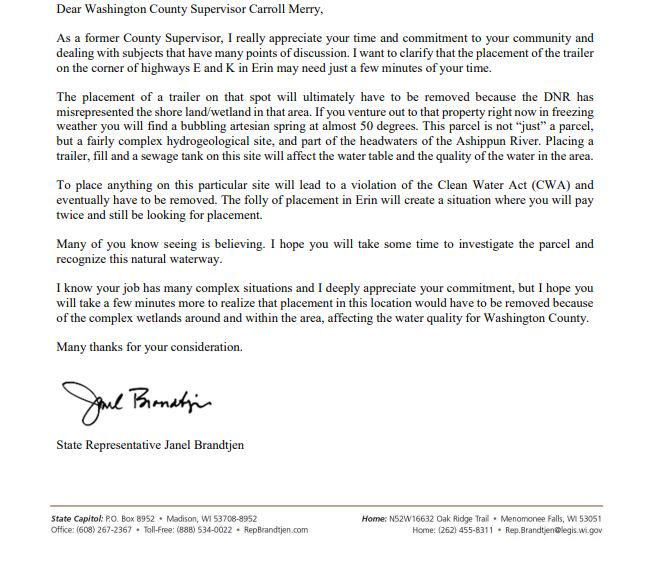 Click HERE to SUBSCRIBE to FREE local news at
The letter from Brandtjen follows on the heels of a January 30, 2023 Notice of Claim filed against Washington County and on January 31, 2023 a Notice of Intent to Sue filed by attorney Donald Gallo along with 15 citizens in the Town of Erin.
The suit against Washington County included the U.S. Environmental Protection Agency and the Wisconsin Department of Natural Resources.
According to Gallo:
"Washington County wants to redefine and fill in the wetlands on the northwest corner of Hwys. K and E in the town of Erin to accommodate placement of recently released violent sex offenders. This redefinition includes a violation of the federal Clean Water Act and violates state and local ordinances. A local group has formed to oppose this action.
Click HERE to read that article.
The Washington County Board meets Wednesday, February 8, 2023, and will review the proposed rezoning ordinance for CTH K and CTH E.
Click HERE for an article from Sheriff Schulteis on placement of a violent sex offender.
The Wednesday, February 8, 2023, meeting begins at 6:00 PM at the Herbert J. Tennies Government Center – Room 1019, 432 E. Washington Street, West Bend, WI 53095.
The meeting is open to the public.
Click HERE to read about Eric J. Dahl who has been deemed
a 'violent sex offender'