Washington Co. Kettle Country Kids 4-H Club attends National 4-H Congress By Max Stowers
Dec. 12, 2016 – Kewaskum, WI – There were 46 delegates from 4-H Clubs across Wisconsin in attendance at the National 4-H Congress including a member from Washington County's Kettle Country Kids 4-H Club; the gathering of 4-Hers from around the U.S. and Puerto Rico was held in Atlanta, Georgia.
Youth are encouraged to participate in randomly-assigned sessions that revolve around positive thinking, leadership, health, service, and the world around us.
Members of 4-H also participated in a day of community service and all were given a project. Some helped in parks or taught in schools.
Max Stowers, 16, is a member of Kettle Country Kids 4-H which holds its meetings at Farmington Elementary School. Stowers is from Kewaskum; other members of the club are from Farmington Elementary School, Kewaskum Elementary School, Kewaskum Middle School, Kewaskum High School, St. John's Newburg and home-schooled youth.
"I helped an organization called Books For Africa," said Stowers. "As the name would imply, I helped sort and package books that would be flown to different areas in Africa."
The gathering also provided an experience filled with many renowned speakers, such as Holocaust survivor Dr. Eugen Schoenfeld, who told his story and touched all club members.
"This experience provided so many places to learn, grow, and inspire others, and it is one that I will never forget," said Stowers.  "Thank you to the Washington County Leaders Association for helping fund this trip."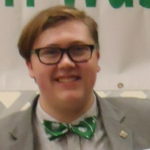 About the Author: Max Stowers is 16 years old and a junior at Kewaskum High School; he is also a member of the Kettle Country Kids 4-H Club. If you see Max congratulate him on a great article published on http://www.washingtoncountyinsider.com