A story that started Sept. 1, 2015 may soon be coming to an end as the gazebo from Old Settlers' Park in West Bend may find a permanent home. Last September, http://www.washingtoncountyinsider.com was first to report on Kevin and Amy Zimmer's purchase of the gazebo.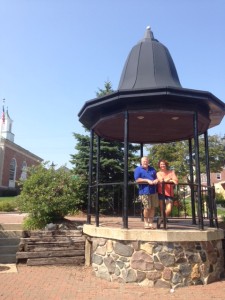 Gazebo from Old Settlers Park sold: Kevin and Amy Zimmer are happy to announce a new addition to their family. The couple celebrated the winning bid for the gazebo at Old Settler's Park located on the triangle of Sixth Avenue and Main Street in West Bend. "I bid $18.45," said Kevin Zimmer. "I chose that amount because I believe that's the year West Bend was incorporated."
On Sept. 17, Steve Awve moved the gazebo from downtown West Bend to the former Schwai's in Cedar Creek. The relocation was full of adventure as Awve dodged low-hanging wires, got caught in a swarm of bees and eventually pulled in an escort from police.
This coming Thursday, the location of the gazebo will go before the board of zoning appeals in the Town of Polk.