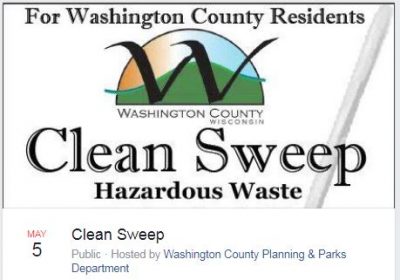 May 2, 2018 – West Bend, WI –  The spring Clean Sweep in Washington County is Saturday May 5, 2018 from 8 a.m. – Noon. Acceptable items include hazardous waste, electronics, TVs, large household appliances, used tires, and pharmaceuticals. You must pre-register to be able to attend.
Either pay the registration fee online HERE  or Call 262-335-4808 to have the form mailed to you.
Registration is limited.
Or you can mail the registration for at co.washington.wi.us/cleansweep or click HERE for the form.
Forms can also be picked up at the Planning and Parks Department, 333 E. Washington Street in West Bend or call 262-335-4808.