June 26, 2019 – Washington Co., WI – On Tuesday, June 25 a Washington County Sheriff's Deputy noticed an odd sound coming from the outside rear of his squad. As a highly trained investigator, he was able to determine a cat decided to hitch-hike by climbing up into the chassis of the squad. The squad car was brought back to the Sheriff's Office and parked in the garage in hopes the cat would climb out on his own and return home.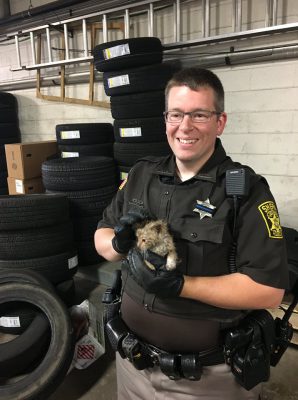 This morning a different deputy was about to begin his tour of duty in a squad car that was parked four stalls away from the original squad. This deputy then heard a familiar sound. You guessed it. The cat simply relocated to another squad car.
That squad was then brought into our facility and a collaborative effort was made to safely extricate the cat. What we found out is this cat is actually a kitten.
Although it is apparent the kitty would like to join our department, we think the relationship could create a hostile work environment with "Ryker" our K9.
If you know of anyone missing this kitty, please contact the Washington County Humane Society.