Washington County Trail Sharks finish strong in Wausau | By Julie Willmas
September 17, 2019 – Washington Co., WI – The Washington County Trail Sharks Mountain Bike Team competed in Wausau over the weekend and lucked out with favorable weather conditions.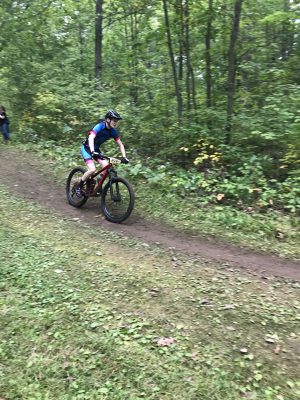 The team came home with three more medals; Anja Lanser (1st) in her 1-lap race, Kendra Schmitt (1st) in her 2-lap race, and Mike Spangenberg (3rd) in his 2-lap race.
Schmitt and Spangenberg pushed hard for a better place than last weekend.  There were also many other outstanding races with five more athletes getting top 10 in their race.
It is great to see how much the team is pushing one other and working hard for personal goals.
This course was 50/50 of single and double track.  So depending on what you like, part of the course was for you.
The Trail Sharks next race in two weeks at Nordic Mountain.
Medalists for their race….
Anja Lanser (West Bend) 1st
Kendra Schmitt (Kewaskum) 1st
Mike Spangenberg (West Bend) 3rd
Top 10 in their age group…
(1 lap)-
Kira Zechlin (West Bend) 10th
Gabe Rogaczewski (Slinger) 9th
(2 laps)-
Fiona Shaw (West Bend) 9th
Christian Spaeth (West Bend) 6th
Will Mauney (West Bend) 8th
Other team athletes…
(1 lap)-
Madelyn Willmas (West Bend) 17th
Ayla Abraham (West Bend) 27th
Shiri Zechlin (West Bend) 38th
Hunter Gengler (Kiel) 12th
Brandon Paulson (Slinger) 56th
Nate Sajdak (West Bend) 58th
 (2 laps)-
Quentin WIllmas (West Bend) 20th
RJ Goldberg (Hartford) 15th
Carson Phillips (Slinger) 16th
Gabe Kebbekus (Slinger) 38th
Cameron Murray (West Bend) 49th
(3 laps)-
Nia Gengler (Kiel) 11th
Skyler Schmitt (Kewaskum) 33rd
Nick Skaalen (Hartford) 27th