UWM – Washington County Golf Team UWM-Washington Golf Invite | By Debbie Butschlick
September 17, 2019 – Washington Co., WI – The UWM-Washington County Golf team started its season with a victory in the Wildcat Invite, hosted at the Washington County Golf Course Friday.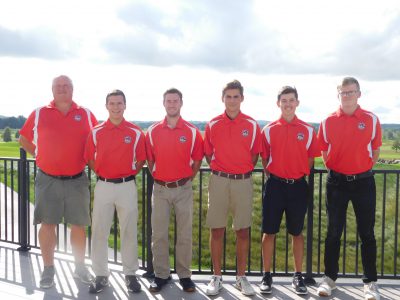 Coach John Minz, Antonio Feciskonin, Jacob Eichline, Brad Halverson, Josh Bohn, and Andrew Vichow
UWGB-Sheboygan finished second and UW-Stevens Point at Wausau was third.
Wildcat team members Antonio Feciskonin (medalist) and Jacob Eichline (3rd) earned a spot on the podium.
"Today was as much mental as physical, the players did a great job dealing with the weather," said coach John Minz.  "Winning was just a bonus."
UWM-Washington County's next contest is the Wombat Invite held at The Bull on Friday, September 20.