Washington County Trail Sharks wrap up successful season | By Julie L Willmas
October 30, 2019 – Washington Co., WI  – The season for the Trail Sharks has come to an end with the State Race on the Trek Trails in Waterloo for the mountain bike team.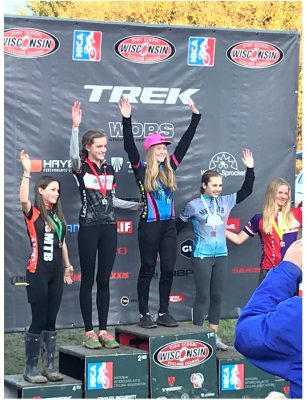 With the course being muddy and technical, the athletes were excited to race.  The race course was filled with fans, as the 850+ riders slid up and down the slick hills and turns.
The Washington County Trail Sharks did not give up as they raced to an 11th place finish for the season.
The team was lead this season by medalists Kendra Schmitt (Kewaskum) 1st place, Mike Spangenberg (West Bend) 4th place, and Anja Lanser (West Bend) 1st place.
Congratulations on a great season!
Medalists for their state race….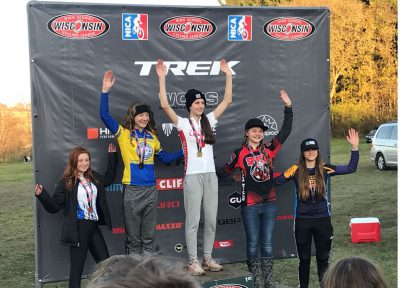 Kendra Schmitt (Kewaskum) 2nd
Anja Lanser (West Bend) 1st
Top 10 in their age group…
Gabe Rogaczewski (Slinger) 9th
Fiona Shaw (West Bend) 10th
Mike Spangenberg (West Bend) 7th
Other team athletes…
(1 lap)-
Aiden Schubert (West Bend) 27th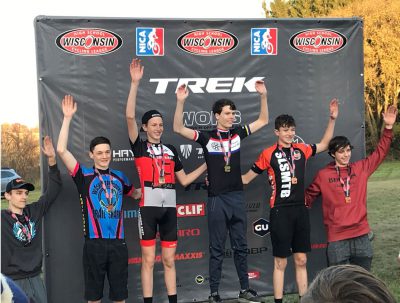 Nate Sajdak (West Bend) 45th
Brandon Paulson (Slinger) 81st
Kira Zechlin (West Bend) 14th
Ayla Abraham (West Bend) 29th
Shiri Zechlin (West Bend) 43rd
(2 laps)-
Lexi Schubert (West Bend) 17th
Will Mauney (West Bend) 12th
Christian Spaeth (West Bend) 21st
RJ Goldberg (Hartford) 22nd
Gabe Kebbekus (Slinger) 44th
Carson Phillips (Slinger) 46th
(3 laps)-
Nick Skaalen (Hartford) 33rd