WashingtonCountyInsider.com is your No. 1 source for local news 7 days a week & no subscription needed

March 26, 2017 – Washington Co., WI – WashingtonCountyInsider.com is your No. 1 source for local news 7 days a week. No subscription needed.
WashingtonCountyInsider.com prides itself on first-run stories with balanced coverage from a reporter who has lived in the community 30+ years.
And now http://www.washingtoncountyinsider.com is No. 1 atop the Google search engine.
Dan Durbin reviewed Washington County Insider — I'm always amazed at how Judy digs in and finds news that is relevant and timely in Washington County. She has a passion that can only come from a "local" who cares about her community. Because she is not "bound" by presses and paper- delivery she tends to scoop the conventional newspapers that are.
Whitey Uelmen reviewed Washington County Insider — Judy  you do a great job reporting local news. We can rely on your news reports being honest and accurate. Keep up the good work. It's too bad that the national and major media don't have someone with the credibility that you demonstrate consistently. You're the best !
Jewel Dawson I Agree, she's # 1 (:
Julie Woods Gullickson reviewed Washington County Insider — When I want to know what is going on in the area this is the place to be! Thank you for keeping us informed on what is going on in our own neighborhood!
Tom Taubenheim reviewed Washington County Insider — I used to work with Judy. She doesn't do anything half way and that shows in her reporting. Very creative and caring person. All the news you need around Washington County is right here.
Janie Ripple Kreis reviewed Washington County Insider — On 2/21/17, I was happy to hear Mark Belling, on his radio program, acknowledge you for being the honest, thorough, up-to-the-minute reporter that we all are fortunate and proud to have in our community. Keep up the good work!
Jerry Stefan – Former Sears store owner in West Bend 23 years ago watching this from Arizona. Makes me enjoy our 70's here today even more. Enjoy your white and thanks Judy as it is NICE to keep up on the news and you sure do a great job…
Terry – Congratulations Judy you deserve to be # 1 you work hard to deliver the local news to us and my wife and I are very happy more people are seeing the worth in your hard work great job !
Sally Fellenz – Congratulations on your nearly one year anniversary! I love your site. I read it first thing every morning and check it several times a day. You are spot on reporting the news. I also enjoy the humorous twist you add. Keep up the good work!
Michelle Mayer – You definitely are making a positive impact in our community with your gift in journalism and for that I thank you!!!
Mary Puestow – Thanks again for all your expert coverage of the local news.
Kathleen Vaughan – It is nice to keep us older folks aware of what is happening around us… Thank you to the Sheriff's Dept in Washington County and to The Washington County Insider…. You all do such a fine job and it is appreciated much more than all of you know…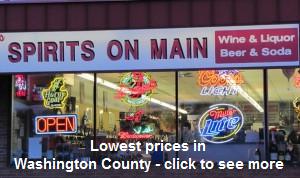 Devona Mitchell – I like your site because it gives me up-to-date information about what is happening in the community and also what is happening with local businesses. I do not subscribe to the paper so I get most of my news local news from you!
March 23 Pat West Judy.. First of all, thanks for all your excellent reportage of the happenings in WB. I no longer live there and have not for 40 years.  Do keep up your excellent reporting.
In one year WashingtonCountyInsider.com has nearly 3.6 million views.
Please support the local businesses that support this page.