Feb. 7, 2019 – Fond du Lac, WI – We have received several calls and emails from spearers wondering if the DNR was going to be checking water clarity and putting out a report similar to years past.  Normally we would already have 2 water clarity checks conducted this close to the season.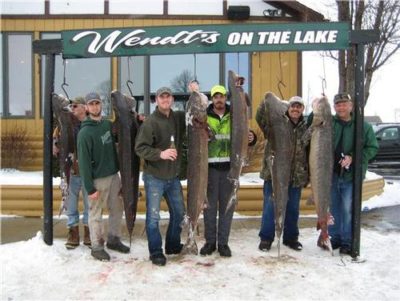 However, the extremely variable weather conditions have kept us off the lake until today when we were able to check clarity out from 7 different landings throughout Lake Winnebago.
 I've attached a map with the results, but for the most part the reports I've heard from spearers over the last couple of weeks are pretty accurate.  There is fairly clear water (12-13' visibility) north of Oshkosh off Payne's Point and Stockbridge, but much dirtier water (7-9' mostly) throughout the southern half of the lake.
These data were collected today but may change throughout the season and potentially even before opening day.  There was a substantial runoff event this past weekend into Monday and the dirty water coming into the lake could alter conditions moving forward.
As it stands now though, the average clarity is 9.5' which is slightly better than the 2018 season (average 6.5') and similar to the 2017 (average 9.5') and 2016 (average 9') seasons.
2019_Winnebago_Water_Clarity.jpg
The weather forecast for Friday night into Saturday morning is calling for some pretty cold temperatures.  It won't be as cold as the polar vortex last week, but still cold nonetheless.  Given the forecasted temperatures, we do have a request for spearers and that is to bring your fish in to be registered early.  Please don't wait until the end of the day to bring your fish in.  It's a lot easier for DNR staff to collect the data we need from fish when they are somewhat pliable rather than frozen solid.  Bringing your fish in early will make the registration process easier and make the wait time at stations shorter at the end of the spearing day.
Good luck to all the spearers heading out this weekend!