Funeral today for Russell L. Heder, 82
Feb. 7, 2019 – Washington Co., WI –  Russell L. Heder DDS, entered eternal life Friday, February 1, 2019 at the age of 82 years. He was born August 26, 1936 in Green Bay to Stanley and Lorraine (nee Schulteis) Heder. Russell was raised in Hartford, graduated from Slinger High School in 1954 and graduated from Marquette Dental School in 1960. On June 23, 1956 he married Carol Herbst at St. Mary's Church in Richfield and was a devoted husband for over 62 years.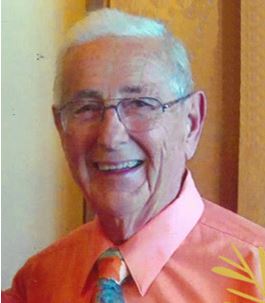 Russell served his country in the US Navy as a Lieutenant for two years before opening the Heder Dental Clinic in Jackson, where he practiced dentistry for 35 years.
Russell was known as "Pops" by family and friends. After his retirement, he split time between the lake home in St. Germain, Wisconsin and the winter home in Mesa, Arizona. "Pops" will be especially remembered for his kind and generous heart, his passion for cooking, his love of nature, and making homemade ice cream with his grandkids. In addition, he was skilled at making jewelry and crosses of which he donated to local charities.
Russell was a member of St. Frances Cabrini Church, Jackson American Legion Post 486 and the UWWC Advisory Board.
Russell is survived by his wife, Carol;  children: Mark, Gary (Nancy Schwekel), Sue (Dave) Cole, James (Lisa) and Jon (fianceé Holly Spencer); grandchildren: Andrew and Adam Heder, Nicholas (Lisa) Cole, Kelly (Massoud) Shafaie, Ethan and Casey Heder; great-grandchildren: Hazel, Olivia, Gemma, Janessa, Silas and Davis; Sister-in-Law Christine Bankole.
A Mass of Christian Burial will be held at 1:00 pm Thursday, February 7 at St. Frances Cabrini Church (1025 S Seventh Ave West Bend) with Fr. Andrew Infanger presiding. Visitation will be at the church Thursday, February 7 from 11:00 am until time of Mass at 1:00 pm. There will be a military walk through with the Jackson American Legion  Post  486 just prior to the Mass.
The family would like to thank Kathy Hospice and Dr. Gary Herdrich for all the tender care they gave to Russell.