December 29, 2019 – Big Cedar Lake, WI – Life in a vintage log cabin is never dull – especially at Christmas time.
Life in this tiny log Farmhouse is never dull, and at Christmastime it can be downright entertaining. Take, for example, the mouse that was indeed stirring on Christmas Eve – probably stirring up a Christmas pudding for friends and family. There was a rustling in the front entry, and then I heard a rustling in the little room off of the kitchen where the dishes' cupboard and the piano live. Do you suppose that little vagrant was intent on snitching a raisin or two from our homemade brandied fruitcake? One wonders.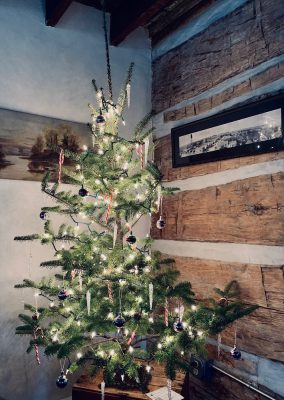 This year we decided to celebrate Christmas in a simpler fashion: fewer presents, fewer cookies, a smaller tree, and more time with family. So when I dragged out my grandparents' vintage 1930s cast iron tabletop tree stand from its hiding place under the desk and proclaimed it splendid for a smaller tree, Mr. Century Farmhouse took it to heart and found a diminutive branch.
At three feet tall with a trunk of less than two inches in diameter, that perfect Christmas tree just fit into that perfect tree stand. Success!
We stood it on several stacked boxes near the log wall in our living room and decorated it simply with tiny white lights, glass baubles, hand-blown glass icicles, and candy canes. It is quite pretty, if a little lopsided, and needs to be watered with a plastic pipette because the space between the tree trunk and the edge of the tree stand cup is so tiny. Can you imagine a tree so thirsty it guzzles 37 pipette squeezes of water several times a day? I can.
Our pretty log cabin farmhouse has seen many a Christmas in the 135 years it has been in my family, and probably several decades-worth more in the years between the time it was built and when my great-grandparents moved in.
A large room was purposefully built in this house as the parlor and this was where the Christmas trees stood and where family, friends, and neighbors would gather for celebrations and dancing. As we have worked on restoration we have found that the interior surfaces of all the logs were – in every room – covered with a lime plaster which was whitewashed and sponge painted with cobalt blue dots. I like to imagine this large parlor with walls covered in the blue dots, a big Christmas tree cut from the home woods and covered with candles and homemade decorations, candles in the three windows, a fire in the wood or coal stove, and a noisy gathering of family and friends. There might have been tables of cookies and other homemade baked goods in the kitchen, and singing and dancing and sharing of stories.
The reality of course was probably not quite so romantic, but we do know that Grandpa would  …. Click HERE to read the rest of the story.
———
In the weeks leading up to Christmas my grandmother would bake and make candies that often were the treats shared at the celebrations between Christmas and the New Year. We have a few of her recipes, but perhaps our oldest family recipe belonged to my great-grandmother, Anna Tennies Wagner, who made fruity cupcakes she called Hermits. According to my mother, she made them all the time as after-school treats for her grandchildren, but they also were on the cookie plates among other treats at holiday celebrations. We don't know exactly when she started making them – perhaps she made them as a child, growing up in the mid-1800s.
Great-Grandma Anna's Hermit Cupcakes
1 pound seedless raisins
Boiling water
3 cups flour
2 teaspoons ground cloves
2 teaspoons ground cinnamon
1 teaspoon ground nutmeg
½ cup (1 stick) butter, room temperature
1 ½ cups sugar
2 egg yolks or 1 whole egg
1 teaspoon baking soda
½ cup milk
In a saucepan, combine raisins and boiling water. Simmer until raisins are tender and plumped. Drain, reserving ½ cup water in a 1-cup or larger measuring cup. Let water cool to just warm.
Click HERE for the recipe instructions.