WB Plan Commission to review Meijer and Delta Defense
A couple developments will be addressed during Tuesday's Plan Commission meeting in West Bend.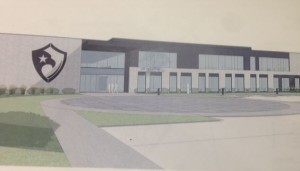 Delta Defense, which is building a new corporate headquarters in West Bend's Corporate Center, will present a new site plan layout. The initial site plans were approved at the Sept. 1, 2015 Plan Commission meeting.
The new design is a bit more scaled back from the initial presentation.
A representative from Meijer Stores will also request changes to the certified survey map at 2180 S. Main Street. Meijer is asking to create two lots and one outlot.
Round two for Smokin Ink as a new agent is applying for a conditional use permit for a tattoo and body piercing establishment, 162 S. Main Street. The last time Travis Nyholm applied and he was turned down. The new agent is Christina Sergeant of West Bend.