WBBA recognizes Adam Rohlinger and Mark Schmidt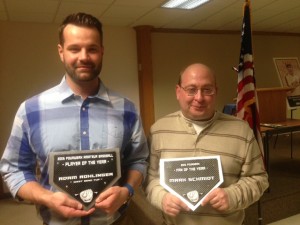 The West Bend Baseball Association held its annual banquet over the weekend and paid tribute to a number of gentlemen who made the game better because of their commitment, talent and dedication.
Mark Schmidt received the WBBA Fan of the Year award and Adam Rohlinger was recognized as the Amateur Baseball Player of the Year.  Rohlinger took over the Land O' Lakes franchise, West Bend 7 Up, and led the team to the finals of the Land O' Lakes Grand Championship.
The WBBA also added John Rozek, Marv Zarling and the Liebetrau family to its Diamond of Honor – Wall of Fame.