Welcome Kwik Trip to West Bend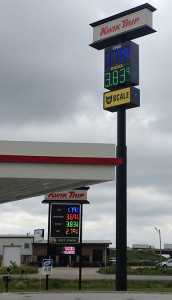 After much discussion about green space, LED signs, light pollution, and a spring-fed pond, the West Bend Plan Commission signed off on a conditional use permit for Kwik Trip to develop a 7,000-square-foot gas station/convenience store in the 1700 block of S. Silverbrook Drive.
The service station will feature 26 gas pumps on five pump islands and a car wash.
During a public hearing portion of the meeting several neighbors praised the Kwik Trip standard.
"Their food is terrific. The employees greet you with open arms and it's a local company based in La Crosse," said Lloyd of West Bend.
Billy Happel moved to West Bend from Wausau two years ago. "I made a mistake because there's not a Kwik Trip in West Bend," he said. "I do all my gas purchases at Kwik Trip because I can get milk, bread, eggs and when you look at Wausau it has nine Kwik Trips. If a city that size can have nine and we have none here – I believe Kwik Trip makes the other stations better."
Not everyone praised Kwik Trip. Bud Osowski is co-owner of the Shell station on Paradise Drive. He's kiddie corner from the lot being sought by Kwik Trip. Osowski argued several times that the location just south of Commerce State Bank was poor planning on the part of the city. He argued about the dwindling amount of green space in the community and the final straw was the 22-foot sign that would be visible to traffic along Highway 45.
Some members of the Plan Commission including Ryan Peterson agreed with Osowski saying the sign along Highway 45 isn't a good representation of the community. "We're different than one of those interchange towns," he said. "The one sign takes us down a notch."
Commission member Chris Schmidt said if they voted against the sign that would be "handcuffing their operation."
The thought was then brought up that the 20-foot sign overlooking the highway would then distract from the architecture and block the view of neighboring Commerce State Bank.
Plan Commission member Jed Dolnick asked if Kwik Trip could reduce the size of its sign.
Troy Mleziva, real estate development manager with Kwik Trip, said the 50-square-foot sign was pretty standard.
Tom Hopp, president of Commerce State Bank, said he was not concerned about the size or placement of the sign and did not see how it would interfere with the bank.
Hopp was pleased Kwik Trip was moving forward with plans to build on the parcel. He said Commerce State Bank owned the property and had been trying to sell it the last eight years.
"We thought a Holiday Inn Express was going to go in there and then that fell apart and everybody wanted an Olive Garden, so we called them but nobody bit," he said.
Osowski approached the podium again and asked that Kwik Trips sign along the highway not be allowed to post gas prices. That suggestion didn't go far.
"How about I approach Keberle & Patrykus (a law firm on Gateway Court) and see if I can post a 20-foot Shell sign in their yard," Osowski said.
The mayor said Osowski would have to check with the law firm and community development about that.
Officials with Kwik Trip have yet to purchase the property.  Spokesman Hans Zietlow said they wanted to get approval from the city first.