Rennicke retires from St. Joe's Hospital after 44 years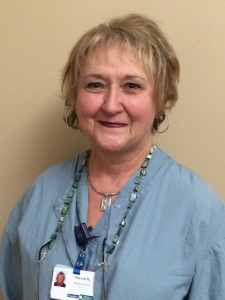 West Bend, Wis., Jan. 6 – Sharon (Sheri) Rennicke, RN circulator, will retire from Froedtert & the Medical College of Wisconsin St. Joseph's Hospital, Thursday, Jan. 7.
Sheri, who resides in West Bend, has been with St. Joseph's Hospital for 44 ½ years, hired in July 1971. During her years at SJH Sheri worked 17 years in Pediatric/Medical Surgical and 27 ½ years in the Operating Room. Sheri held many different roles during her years in the Operating Room, including RN circulator, charge RN and interim manager several times.
Sheri was nominated for the Excellence in Nursing Award by her colleagues in 2012 for her dedication, attention to detail and advocacy for nursing. Sheri feels sharing information and knowledge with her peers helps them to become motivated and always do their best work. "I am an advocate and voice for change and education," she said. Sheri completed her Perioperative Certification in April 2014 and used her knowledge to help drive practice changes within the department.
"Sheri exhibits a passion for OR nursing and a love for helping others," said Janelle Lisko, OR manager. "Sheri's mind is always looking for the next step. She is amazing at critical thinking and problem resolution. These skills allow patients to feel confident and trust in her as a caregiver. I feel very honored to have had the opportunity to have worked with and learned from Sheri."
Sheri's retirement plans include spending time with family, traveling, bowling, playing Sheepshead, puzzles and to "enjoy life."
Froedtert & the Medical College of Wisconsin St. Joseph's Hospital, founded in 1930 by local doctors, community leaders and the Sisters of the Divine Savior, is a full-service hospital serving residents of West Bend and Washington County. St. Joseph's Hospital, specializing in women's health and birthing services, cancer care, surgical procedures and rehabilitation services, is part of the Froedtert & the Medical College of Wisconsin health care network, which also includes Froedtert Hospital, Milwaukee; Community Memorial Hospital, Menomonee Falls; and more than 30 primary and specialty care health centers and clinics.