Welcome Zuern Building Products of Allenton, Cedarburg, Franklin and Watertown
March 19, 2019 – Allenton, WI – A hat tip and a hearty 'welcome' to Zuern Building Products as one of the new sponsors to WashingtonCountyInsider.com
Zuern Building Products is a locally-owned company that got its start in 1953 as Allenton Lumber and Fuel.
There were five employees at the start and now with years of dedication Zuern Building Products has "well over 100 employees, has grown to be one of the largest independent, family-owned and operated lumber and building material suppliers in Wisconsin."
According to the company website:

Zuern Building Products supplies a full line of building materials to professional builders, remodelers, and homeowners. We have four expansive lumberyards with complete showrooms in Allenton, Cedarburg, Franklin and Watertown, Wisconsin. Since 1953, we've been family-owned and operated. We take pride in our tradition of providing high quality building materials and valuable services to our customers. We are "Building on Service!"

As our retail operations have expanded, we've been able to add services to meet the needs of our clients. From traditional lumber, millwork, windows, doors, and cabinet supplies to trendsetting home and kitchen and bath design, our team remains focused on making life easy for our clients. Our design staff can help you design and plan a project, create a products list, and deliver products directly on-site.
The mission of Zuern Building Products is to maintain a dominant market position in the sale of building materials to the professional, through the combined efforts of management and a team of dedicated employees, adhering to a standard of honest and ethical business practices.
A relationship was established with the Zuern family when a request was made to cover the celebration of Larry Breuer and the retirement of Eugene "Geno" Wolf.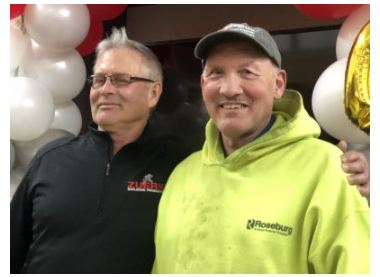 The team at Zuern Building Products was outstanding with its communication and professionalism.
The operation has astounding teamwork and makes everyone feel like family.
Please thank Zuern Building Products for supporting local news across Allenton and Washington County.