West Bend co-op Alpine Ski Team is turning heads and aiming for state By Everett Quissek
Jan. 30, 2018 – Washington Co., WI – The West Bend co-op Alpine Ski Team is preparing to qualify for state after a great season so far.
The girls varsity team is undefeated with a record of four first-place victories and the boys varsity team has a record of three first-place wins and one second-place finish.
The varsity girls team is tied for first with Mukwonago and Arrowhead High Schools with 48 points each.
The West Bend co-op Alpine Ski Team has two more races this season, Thursday evening at Ski Sunburst in Kewaskum.
The West Bend High School team is comprised of athletes from West Bend, Kewaskum, Port Washington, Living Word, and Sheboygan South High schools
The conference website is available HERE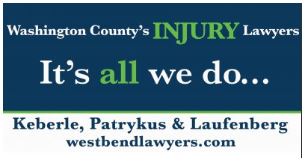 Jon Sison is head coach of the West Bend CO-OP Alpine Ski Team. "This team is small in numbers but are they fast," said Sison.
The Midwest High School Ski Conference consists of 21 boys varsity and 21 girls varsity teams; it is the largest in the state of four conferences.
Starting in January all teams race six races thru the beginning of February.
Currently the teams are in the fifth week of races. After the sixth race the top 12 teams will compete against the rest of the best in the state at Mt. La Crosse on Feb. 18 and 19.
Individually the team is shining as well and below are the results.
Boys
Zac Wehner, Port has 3 second place wins
Issac Bensen, Port has a 3rd place win
Josh Devenport Living Word has a 4th place win
Quinn McElhatton, Kewaskum has a JV 1st place win
Caden Bast, West Bend has a JV 2nd place win
Kai Briedis West Bend
Everett Quissek, Kewaskum
Jared Peterson
Girls
Madelyn Wehner, Port Wash. Has 3 first place wins and one second place win.
Helen Flynn, Sheboygan South has 2nd place win and 2 third place win.
Alyssa Hutchins has a 3rd place win
Lauren Hutchins has a 4th place win.
Bridget Krause, West Bend
Olivia Heinecke, Port Wash.
Lilly Hahn, West Bend