West Bend Common Council to vote on property annexation for proposed Honda dealership tonight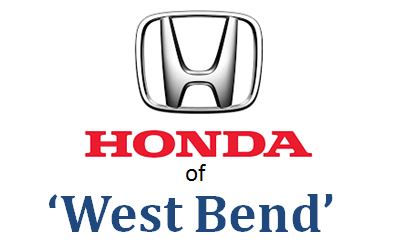 Jan. 22, 2018 – West Bend, WI – There's a Honda car dealership coming to West Bend. It's a story you saw first in May 2017 on WashingtonCountyInsider.com
Tonight a vote will be taken so development can move forward on a new Honda location as the West Bend Common Council votes to annex 43.2 acres from the Town of West Bend.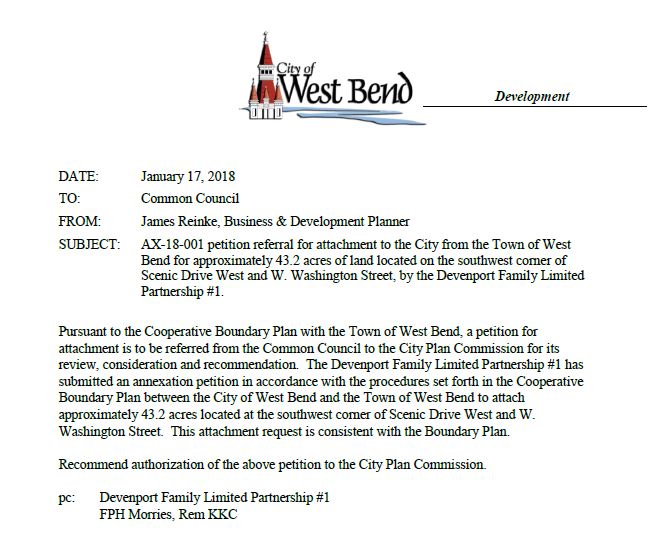 Karl Schmidt, CEO with Morrie's Automotive Group of Minneapolis, was officially awarded "the point" for the Honda dealership in April 2017.
Shortly thereafter Schmidt flew to West Bend to scout a location for the new store. "Honda of West Bend or Morrie's Honda" were names Schmidt batted about last year.
The property search proved a bit more challenging than first expected.
"Typically property owners are a bit opportunistic and they want twice as much as what they originally paid for their property," he said.  "I can't blame them."
Schmidt finally honed in on a parcel on the west side of Highway 33 and Scenic Drive.
"I like the corner and visibility and it was kind of serendipitous because we flew into the West Bend Airport and one of the people at the airport, his family owns this land," he said of the Devenport family.
The past few months have been filled with working with the Wisconsin Conservation Congress and the Department of Natural Resources.
City administrator Jay Shambeau said the annexation is necessary so the property can hook up the utilities, like sewer and water.
"This is a 40-acre property involved in the attachment and it's part of the boundary agreement with the Town of West Bend," said Shambeau. "Upon request that land has to be annexed to the city of West Bend."
The property is currently owned by Devenport Family Limited Partnership #1.
According to Washington County the parcel was purchased in 1988 by Douglas Devenport. In 1996 it was transferred to Craig Devenport and the Devenport Family Limited Partnership #1.
The 2017 assessment is for two parcels. One is 37.2 acres and its assessed value is $217,700. The second, much smaller parcel closer to the Highway is about a 3-acre strip valued at $7,700.
The council meeting gets underway at 6:30 p.m. in the council chambers at City Hall.  Click HERE to look at the agenda.
Morrie's Auto will have representative Lynn Robson at the meeting. ((UPDATE: She's snowed in at the Minn/Wis. border and in her place Ben Weiland from CBRE will be at tonight's meeting.)
Schmidt said, moving forward, the design is pretty straight forward and hopefully they can break ground in a couple months.
"We're already in the process of designing the building with a manufacturer and what we're really working through right now is the annexation and being able to proceed," he said.
Should the annexation move through tonight, Schmidt expects to start building in late spring or early summer.
"We'd like to be open yet this year," he said. "We'll see how the plan goes."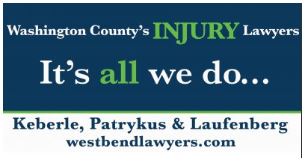 Last May, Mayor Kraig Sadownikow said the Morrie's group sounds a bit like "the Twin Cities version of Russ Darrow."
"It's absolutely exciting for West Bend," said Sadownikow. "Honda is a big name and not only from a development standpoint but bringing visitors from outside the area; we're looking for that."
In terms of another car dealership coming to West Bend, Sadownikow said overall the city's business base is pretty well rounded.
The new Honda dealership will be full service; carrying new and used vehicles, parts and service.
"We'll bring 60 to 70 new jobs, which is exciting for the area and for us," said Schmidt. "We love the Wisconsin market and hope to be a good partner in the area and do well."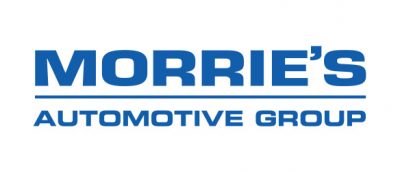 On a side note:
-Morrie's has a Mazda store between Chippewa Falls and Eau Claire. "We do very well and it's one of our highest performing stores," said Schmidt.
– The closest Honda dealership is 91st and Brown Deer Road in Milwaukee. There's also a dealership in Appleton and Sheboygan.
-Karl Schmidt is originally from Galesville, Wisconsin. His father still lives on the dairy farm and he has a sister in Cedarburg.
– Morrie's Auto Group has a variety of brands including Hyundai, Nissan, Lincoln, Cadillac, three Mazda stores, two Subaru stores, and two Ford stores, Maserati, Aston Martin and it just acquired Honda. Morrie's also has a luxury line called Genesis.
– Schmidt's review of Honda.  "Honda is one of the brands we've always kind of coveted and it fits how we do business. Honda has a really good loyal customer base, they're consistent in their product development and they're economical and safe.  The people are great organizationally at Honda. They do a nice job and the stores are well run across the country.  The stores are profitable and the biggest driver to us is we can better serve our customers."
-Morrie's Automotive Group started as a family business by Morrie Wagener in the early 1960s. Wagener worked with imports in the Twin Cities area and over the years acquired different franchises and built the business. Schmidt started with the company in 1988. In 2016 Wagener sold the business to Schmidt and New York-based investment firm Fremont Private Holdings out of San Francisco.