Jan. 22, 2018 – West Bend, WI – The date has been set for the 7th annual Diamond Dinner & Benefit for the West Bend Baseball Association.
The event, March 3 at The Columbian, will pay tribute to athletes who made their mark in local baseball circles.
Inductees include Mark Scholz, Adam Rohlinger, Bob Meyer, Bob Kissinger and TJ Fischer.
The keynote speaker at the dinner is baseball writer Drew Olson.
Below are the award winners from the 2017 WBBA induction ceremony.
Awards included: Bart and Rita Bartholomew received the WBBA's President's Award. The couple have dedicated years to baseball in West Bend coordinating concessions at Carl Kuss Field and providing local media updates and full operation of the West bend 7 Up Baseball Club.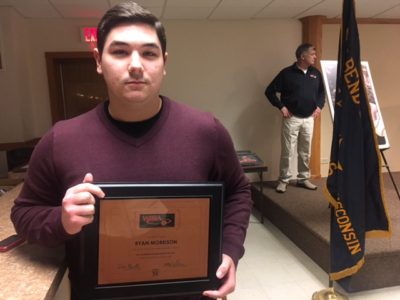 Ryan Morrison (right) received the Men's Player of the Year and Michael Prochnow (below) received the WBBA's Award of Merit Scholarship.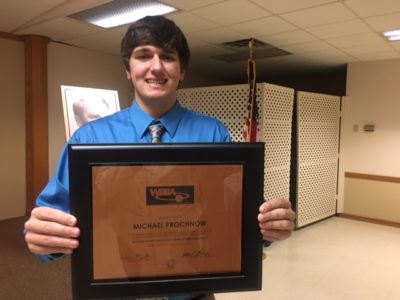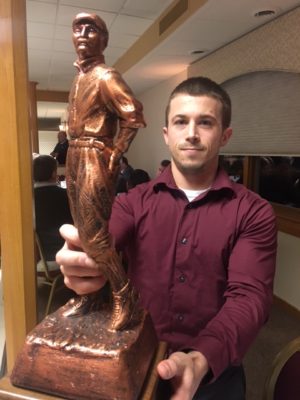 Nick Erd (right) was honored with the George "Doc" Kraemer Man of the Year award for his work off the field in the community and his efforts to promote baseball.
"Baseball prepared me for life," said Erd. "You don't need to get ready when you are ready."

The WBBA inducted Stu Walter, Robert Pick II and Jim Hughes into the Wall of Fame.
Stu Walter said West Bend is fortunate for its community support.
"What I really liked about West Bend Little League and the complex is that it's open and kids can come out and play home run derby when they want.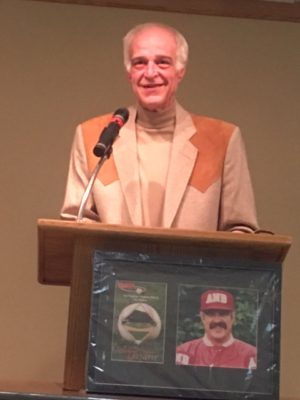 "The amount of interest from people who enjoy the game is good to see especially the families that come down and use the facilities.
"We built a new diamond and it doesn't take much time but 10 kids will show up and they're just playing sandlot baseball.
"No adults. No umps. No parents. Just playin. That's my fondest memory."

Bob Pick Jr. was inducted into the Wall of Fame and recognized for his dedication to meticulous scorekeeping for over 50 years.
"Good evening friends of baseball. This ride has lasted over half a century and the reason that's happened is because I've lived long enough," said Pick.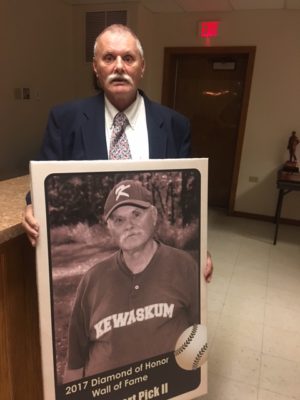 "West Bend is a baseball town," said Pick. "People have a passion for the sport. I thank the Association for the award and for the friendships that came with it."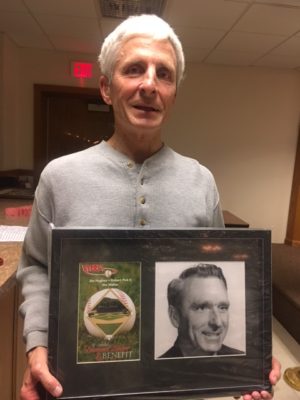 Finally the WBBA honored Jim Hughes for his dedication to the Little League complex on Water Street and for his 18 years of coaching.
Jim Hughes died in June 1982 and his award was accepted by his son Mike.
"Dad would hit grounders and pop ups," said Mike. "He grew up listening to the Braves play. My dad came to practice and he stayed.  For the next 18 years when he started coaching it became my dad's home away from home.
"He had expectations for the kids.  Hustle and heads up with situation baseball. And his high priority was fundamentals."