West Bend Dist. 3 alderman files non-candidacy papers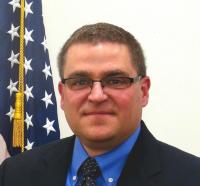 Dec. 27, 2017 – West Bend, WI – West Bend District 3 alderman Mike Chevalier has filed non-candidacy papers.  Chevalier was first elected to the 2-year term on the common council in April 2016.
As of Friday, Dec. 22 the city clerk reported Andrew Chevalier turned in papers to run for Dist. 3 alderman. Andrew Chevalier currently sits on the West Bend Library Board and he is an employee at West Bend Mutual Insurance.
The odd-numbered districts in the city of West Bend are up for election in April 2018.
So far the other aldermen have all indicated they will be running for another term including incumbents John Butschlick in Dist. 1, Richard Kasten in Dist. 5, and Adam Williquette in Dist. 7.
Justice Madl has also taken out papers to run in Dist. 7, which is the Barton area. Madl owns the barber shop, Do Your Hair Justice, on Barton Avenue. He's also taken out papers to run against incumbent Kristine Deiss in District 1 on the Washington County Board.
Deiss has already turned in her signatures as has alderman Williquette.
Candidates for alderman must collect 20-40 signatures from taxpayers in their district in order to run for office. Those papers are due at City Hall by Tuesday, Jan. 2, 2018.