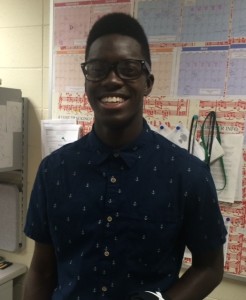 Drum roll please as the Milwaukee Bucks have selected West Bend East junior Duwayne Davis as one of the members of the 2015-16 Bucks Beats.
Davis, 16, tried out for the Bucks drumline a couple weeks ago with classmates Troy Matenaer and Carlitos Salazar. "I found out right after football practice," Davis said about the email he received Wednesday afternoon from the Bucks Allex Plank.
About 40 people tried out for the Bucks drumline. Davis said 20 people made the cut.
"My friends are really happy for me and my drum instructor at school is also really happy for me. I'm really pumped about it," he said.
Sounding very grounded for a teen, Davis thought he had a chance but said he was glad the Bucks lowered the age requirement so he could try out.
"I'm bummed my friends didn't make it," he said.
According to his parents, Davis has been drumming since he was 2-or-3 years old.
While he has yet to get his driver's license, Davis does have his schedule for three upcoming events including a gig at Skate America and then he'll play opening night, Oct. 28, for the Bucks vs. Knicks and then when the Wizards come to town Oct. 30.
"I'm not really nervous, I'm just really excited," he said.
Davis has been playing it low key. "I haven't told a lot of people but my friends are telling everybody," he said.
When the students initially auditioned, Leah Duckert, West Bend High School Band Director, praise them for their effort. "I'm amazingly proud," she said. "It shows how courageous they are and how much integrity they have and it shows their work ethic. They know they just can't walk in and blow through the audition. These kids are practicing hours a night so that shows their determination too."
Below is the confirmation letter Davis received from the Milwaukee Bucks.
Good Afternoon,
The Milwaukee Bucks would like to thank you for auditioning to be a member of the 2015-16 Bucks Beats presented by Cascio Interstate Music. After a thorough review of all of our candidates we have made a decision on the finalists for this year's team. After judging your performance, we believe you would be an excellent fit for this year's team. Congratulations!
Orientation will take place next Thursday, October 8 from 5:30 p.m. – 7 p.m. at the Schlitz Auditorium. This is a mandatory meeting. Please confirm your attendance with me via email by next Monday, October 5 at 5 p.m. You will receive a follow up email with further details for Orientation.
We look forward to seeing you there and working along with you this upcoming season!
Best Regards,
Allex Plank Live Programming & Entertainment Specialist Milwaukee Bucks