West Bend East wrestling finishes with strong performance at Gunslinger Tournament. By Allie Boettcher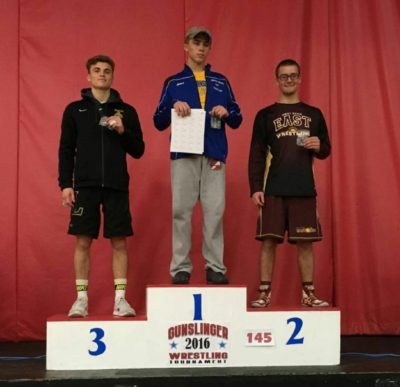 Dec. 4, 2016 – West Bend, WI – West Bend East Wrestling participated in its first tournament over the weekend; the Gunslinger 2016 Wrestling Tournament was hosted by Slinger High School.
Overall East Wrestling did great job placing 6th out of 16 teams.
Wrestlers Bryce (145 pounds) and Cayden Henschel (120 pounds) both placed 2nd in their weight class. Henschel was predicted to place 6th. Bryce matched his second-place seed, only losing during overtime in the championship round.
Henschel pinned Cameron Tonsor-Heeson, a returning Gunslinger champion, in 37 seconds.
Dan Ciriacks (113 pounds) competed in his first high school tournament and placed 4th in his weight class beating his 8th place seed.
Cooper Schlosser (152 pounds) was a key point scorer for the team with three pins bringing in 26 team points. Following close behind was Cody Hughes (160 pounds) with 24 team points and one pin.
Kyle Yochem continued the trend of first-round wins with a pin over Eduardo Padilla from Kewaskum, and ended the day with 22 team points.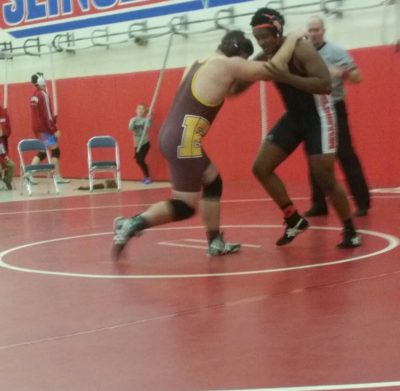 Evan Smith (182 pounds) placed 8th overall in his weight class and contributed to the team's success with 22 team points.
Nathan Brockman (220 pounds) also had a good day going 3-2 and bringing in 26 team points.
Jason Myrick wrestles at 285 pounds but only weighs 245 pounds. Often times his opponents have 40 pounds on him making every match more difficult.
Despite the odds Myrick placed 6th and contributed 10 team points.
Former West Bend East Wrestler Gunner Boettcher said, "It was great to see everyone winning matches and looking good while doing it. I think Coach Brent Henschel has a lot of talented wrestlers to work with this year.
"Although we placed the same as we did in 2015, this year we beat several teams that placed higher than us in 2015," said Boettcher.

Varsity and JV will compete at Wisconsin Lutheran at 7 p.m. on Friday, Dec. 9.
On Saturday, Dec. 10 the varsity will be competing in the Marquette High Invitational and JV will be competing in the Port Washington Invite. Wrestling will begin at 9 a.m. for both varsity and JV.