West Bend Elevator celebrates 70th anniversary
Sept. 4, 2017 – Kewaskum, WI – The crew at West Bend Elevator rolled out the red carpet for hundreds of guests to help the Gonring / Kratz family celebrate the 70th anniversary of the West Bend Elevator.
Farmers, vendors and friends were treated to an open bar, as well as Nesco's full of thick slices of steak. Many in attendance spent the evening recounting their affiliation with the mill and memories about owner Johnny Kratz.
"I was three years old when my parents bought the mill," said Joyce (Kratz) Gonring referencing the purchase by Johnny and Grace Kratz in 1947.
Johnny Kratz got his start working at Thiel's Mill in Slinger. "When Mr. Thiel's son came out of the service my dad knew there wasn't room for two young men to be in that company and he went to West Bend," said Gonring.
The mill was a lifestyle for the Kratz's. Joyce recalled her youth of being underfoot, her mother driving truck and, as a teen, how her dad called on the boy down the street, 15-year-old Dave Gonring.
"I was outside my home on N. Ninth Avenue in West Bend, the Kratz's lived one house over and Joyce came up and said my dad wants to talk to you," said Dave Gonring.
"I went down to see what he wanted and he asked if I wanted a job. I think he wanted to find out if I was good enough to take his daughter out."
Shortly thereafter, in 1957, Dave Gonring stepped into the elevator business.
"I had yet to acquire a driver's license so I was assigned to shovel off trucks, unload cars and I learned how to tie a miller's knot; I was a dumb city kid ya know," said Dave Gonring.
Those were the days when the elevator's primary business was grinding feed, corn and small grains, later shipped in bags.
For 120 years the elevator was located on a modest site at 204 Wisconsin St.
Neighboring businesses included Kasten Oil to the south of the mill, Standard Oil, Brittingham & Hixon Lumber Company, Gehl Company, Cooley Box Factory, Cooley International, Enger Kress, White House Milk and Home Lumberyard to the north.
There were dedicated employees at the West Bend Elevator like Herbie Melbinger, Syl Van Beek, and Ira Weber Jr. The mill was a gathering place in town and John Kratz new '99.9 percent of his customers by name.'
"He was a jolly man," said Loran Butzlaff of Kewaskum. "I knew him for over 50 years; he had a good reputation and was a good businessman."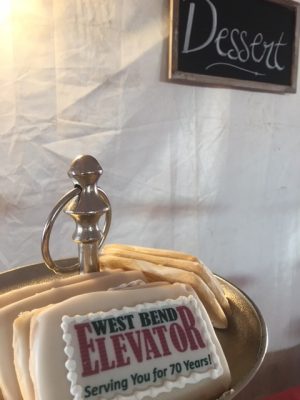 Joyce Gonring, 74, recalled the challenges of operating alongside the Chicago and North Western Railway. "It would just be forever when they were moving trains and how long it would take to get across Highway 33 to the elevator," she said.
Active in the community and on the County Board, John Kratz knew he was hemmed in downtown and had the foresight to invest in seven parcels by, what was then a two-lane road called Highway 45.
"The West Bend Elevator had no room for expansion and that was very much in the plans," said Joyce Gonring.
In May of 1980 the West Bend Elevator completed the move to its current location on Hwy D.
In January 1987, John Kratz passed away and Dave, 75, and Joyce Gonring took over the business.
"We have about 700,000 bushels of storage now in our silos," said Dave Gonring. "We're up to 31 employees and we like to hold these gatherings just to show appreciation for all the people who have shown their support all these years."
The sad part, according to Dave, is all the people that are missing. He hesitates to start listing names including Tony and Bud Goebel. "Those fellas were from up in the Holy Land," said Dave.
To this day the West Bend Elevator has been staffed by four generations of the Kratz/Gonring family and the Elevator has stayed true to its mission statement instilling a tradition of dedication to customers and providing them with the high quality supplies and service.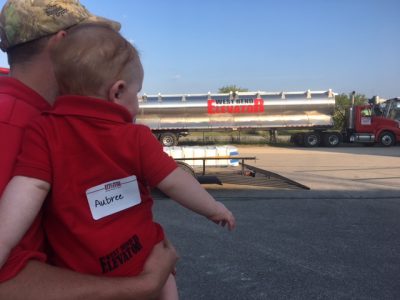 Historic photos courtesy West Bend Elevator.
Video courtesy Aerial Drone Photography.