West Bend School Board candidate forum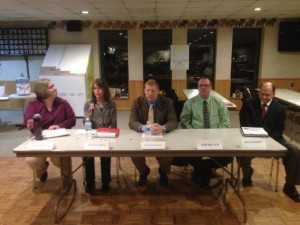 About 80 people with strong interests in the West Bend School District turned out Wednesday for a candidate forum presented by Common Sense Citizens of Washington County.
There are five candidates running for two seats on the board including Jenn Donath, Tiffany Larson, Randy Marquardt (inc), Bob Miller and Ken Schmidt.
The 2-hour forum, hosted by CSC president Chris Jenkins, included questions from those in attendance which included primarily teachers, parents, members of CSC and current school board members Rick Parks, Bart Williams, and Ryan Gieryn.
The common themes that came up frequently included improving communication, better listening, and more transparency. There was a strong message that the West Bend School District was the ugly stepsister to the Slinger School District, all candidates sent the message that West Bend had the potential to be a great district.
Q, Teachers are like student's first family, what is the role of teachers/parents, what if the parents aren't doing their job?
Jenn Donath – Parents and teachers work together. It takes a village
Tiffany Larson – Schools are stable and warm and provide what's lacking at home.
Randy Marquardt – Ask parents to support teachers as much as possible
Bob Miller – See if we can learn to communicate more between teachers, parents and families
Ken Schmidt – Teachers need the tools to succeed to be able to keep parents informed
Q, Concerned taxpayer: Over 300 students enrolling in other districts what can we do to keep them here?
A) Tiffany L.: We have teacher vacancies, need to mend fences, environment issues, get to source of problem, SB needs to communicate with school teachers and admin. And get into the classroom
B) Randy: Very often students leave because of convenience- school is closer to where parent works. There's a large virtual school population.
C) Bob Miller: We need to find out from parents why students are leaving. Make sure we offer programs that go above and beyond to bring them back.
D) Ken Schmidt: WBSD has a good reputation when I talk to people from other districts. Continue to inform public about our programs.
E) Jenn Donath: Exit interviews aren't honest. Teachers too. Speak with people face to face, not on paper. What are the other teachers and schools doing?
Q, Teacher in schools, CK: Many years ago, we were the model, we went to national conventions, we were the place to be. Concerned about the loss of administrators. Teachers too. How can we bring our district back and encourage them to stay?
a) RM: Everyone has anecdotes. Numbers just don't bear this out. 4-5% turnover rate. Everyone had different motives. Administration is a concern.
b) BM: What's causing this? Have meetings? Get out there.
c) KS: Open Communication. There are frustrations that need to be expressed to the board.
d) JD: I know there are concerns. People feel like they're not heard. Suggestion box. I want them to know this and that. Struggles and positive things.
e) TL: Read my blogs. These are innovative teachers, feel not appreciated, not valued, demeaned. This is a human issue. This is where the leaders listen and respect the teachers.
Q, What would you do to bring back licensed professional social workers back into the schools?
a) BM: yes there are some needs. We can work with Cty. I agree, we need them. Families having problems.
b) KS: is a social worker. Yes, this would be helpful. They could be an advocate for good parenting skills. Bring them back how? Use savings from Act 10.
c) JD: She agrees, absolutely. We need to get them back in. We can get that money somewhere. I know people think I'm liberal, but we need to spend on certain things, not others.
d) TL: She worked with liaisons for SWs. There is a need. Bad things are happening. Teachers are having to do more than they should. There is room. Maybe there's an overinflated middle management.
e) RM: When I started, I asked why are they here? There are a lot of things that would be nice. You have to look at a budget. We have paraprofessionals.
Q, Parent. How should teacher's performance be evaluated?
a) KS: Performance of students and how well they learn. Common Core is a problem. We need to work around it.
b) JD: Other ways to evaluate teachers. They can be evaluated by visiting classrooms, What are they doing?
c) TL: As Occupational therapist it'd be hard to review her on how stroke therapists recover. All students learn differently. Evaluate their investment in their presence and their heart.
d) RM: Many years evaluating the system. Student Growth, amount of time you spend helping others grow and develop system, and teaching methods
e) BM: Tests but also, their peers. Are they teaching the kids across the board?
Bring in admin, sit in classes.
Q, Teacher, daughter of an educator. Why do so many administrators live in the district? What are we going to do about that?
a) TL, In Slinger, admin are at the games, vested. That's not the case here, they don't pay taxes here, don't care as much about the students
b) RM, have been faced with this before. You want best person for the job. That's the most important thing. You should be involved though
c) BM, agrees, need best professionals, yes good idea, they should have a stake in the game
d) KS, would be nice, but that is not the case. Plusses and minuses. Plus mean bring richness of experience, Minus, not as involved. We can have a good mix.
e) JD, I agree, they should live in the district.
Q, Former teacher, How would you promote trust, respect, integrity and open communication between school board and staff?
a) RM, We've fostered a leadership team at each site, to bring back info to the school board. Trust has to go both ways. It is a real concern if you don't think you can share concerns.
b) BM, Volunteer in the schools. Listen and be with parents.
c) KS, Big advocate for forums. Admin and school board in small groups, helpful
d) JD, Communication is key. Place where everyone can get together to collaborate, make things better. Teachers feel intimidated and don't feel afraid to voice their opinion.
e) TL, Treat others to how you want to be treated. SB is a position of humility. Trust is important. Teachers are most important.
Q, Consultant, if my employees feel like I'm not listening, I'd listen to them and how can we improve morale?
a) BM, I agree. Pyramid flipped. Listen to teachers and make sure we give them what they need.
b) KS, Board should recognize accomplishments of teachers and socialize with the educators. Listen more.
c) JD, making decisions…teachers need a voice. Deciding to change a curriculum in the middle of semester, not cool. Listening to teachers and respect.
d) TL, Dad was pilot, CEO shouldn't be flying the plane. Teachers are the ones I want flying the plane. Management needs to respect teachers. Reinforce positive.
e) RM, There are a lot of decisions where the board can't interview everyone…not possible. There are opportunities to discuss things with the board. Not everyone can have the big picture
Q, Less college students going into teaching. What can we do to attract the best, and more?
a) KS, Spouse and daughter teachers, love students, felt that it was their calling. Emphasize the value and importance.
b) JD, need to listen to teachers…they aren't the enemy.
c) TL, Physics teacher came and left and right away because he was distracted by all sorts of initiatives, and just wanted to teach. Sam Gross is Kindergarten teacher
d) RM, Daughter also became a teacher, doing it because she loves it, not in it for the money. In the past, continuous bumps, automatically got pay raises, Act 10 sort of made people shy away from this
e) BM, everyone needs to feel valued and respected
Q, parent, all candidates saying the same thing…I don't have access to information like the school board members do. Do you think the district is answering open records requests in a timely manner?
a) JD, No, I haven't received them in a timely manner. We need to have more transparency. Website getting better. More detail to agendas, meetings, more recaps. Share info in lots of different ways.
b) TL, I've never done this. Maybe there's some disorganization. How do we recover from this? More info from the beginning, maybe we wouldn't have problems
c) RM, we do respond in a timely manner. Sometimes it's unavailable or things need to be redacted. If we're communicating properly, there's no need to file a request.
d) BM, we need to get more information out there
e) KS, have not made an open records request. There is a lot of information there. I like details. You find things out how things can be better
Q, is it important for public school board members to enroll their own students in the district?
a) TL, absolutely, you can best represent everyone
b) RM, it depends, if you want to send your student to parochial, then that shouldn't preclude you from running
c) BM, yes they should be in the district
d) KS, can go both ways. Yes, it can be an advantage, but if they're not, there could be richness of experience that is brought to the board
e) JD, prefer yes students in the district, it shows you believe in the product, you are more invested.
Q, How informed do you want to be? How do you plan to handle how you are going to be informed?
a) RM, it's a matter of getting the facts. Just because a few teachers have a point of view, doesn't mean that they understand the systems and such…you need supervision
b) BM, need to listen to teachers and do your own research, Google
c) KS, lines of communication need to be established. Big believer in forums. Opportunities to hear concerned citizens and teachers.
d) JD, SB members can be puzzle makers. Open door policy. Take all into consideration.
e) TL, SB has a responsibility of checks and balances. We can prevent a lot of financial waste by investigating beforehand rather than questioning afterwards.
Q, East graduate, there are failures here. SB has shrugged them off. We are doing much more with much less. $3 million loss to students choicing out. Throughout all sorts of numbers. Angry about how money is being spent. How are you going to protect my tax money?
a) BM, look at everything, are programs really needed?
b) KS, reassess and look for efficiencies. Funds can be spent in better places
c) JD, Look at things beforehand. Don't put out fires. Worked at UW Oshkosh…we wanted to figure out how to save money so students weren't affected. I have practice doing this.
d) TL, for a conservative board, we have greatly expanded our admin. A lot of beaurocracy. What are these jobs that have been created? Be cautious. Strong children grown a strong community.
e) RM, More knowledge due to being on board. $3.3 million isn't the real number, costs come back if they came back. We are not bloated. Galileo system was a state requirement. This was a solution that created more efficiencies.
Q, Slinger or WB? 10 yrs ago. Why is Slinger now the place to be? Get reputation back?
a) KS, WB is doing this already. Put out the information. Showcase successes. Recognize students in the community. Put the faces to successes of students
b) JD, Slinger's Mission Statement. Encourage students to be there best. And teachers are empowered. And parents are informed.
c) TL, Slinger has positive rep, but potential here is 10 times greater. But we have great things. They get into specifics in their mission statement. Needs a little inspiration.
d) RM, I would ask you back. Were you more impressed with facilities? They had money to build nice facilities. Jackson abuts Slinger SD, drive by Jackson…not comparable.
e) BM, remodel there and they listen to their teachers. They communicate with everyone better. Bring family atmosphere into sports teams.
Q, Proper role of school board member?
a) JD, listen. What do you think?
b) TL, spoke with lots of community members. Properly represent the community. Checks and balances.
c) RM, Rep the community…all shareholders. Supervisory role also, hold accountable.
d) BM, put personal preferences aside. Listen to majority.
e) KS, rep all stakeholders. Students first. Listen and oversight, and governance. Board of Regents experience taught me how to make good decisions.
Q, Teacher: Listen, teachers, etc. checks and balance. You can't just listen to just a few. The public group that is loud but not representative of the whole school body. How can teachers get their concerns across without being?? Unsure of actual question. Specific way to get ideas across?
a) TL, climate study
b) RM, don't feel like it's his role to be involved, but supervisors should and if they're not doing their job, then push the issue
c) BM, neutral party involved
d) KS, Firms do assessments, get input, get positives and negatives. Squeaky wheel gets grease and sometimes that's unfortunate.
e) JD, neutral party, climate assessment. All teachers need attention
Q, How are Principals and admin evaluated and how can that change?
a) RM, Baldridge Method for evaluating.
b) BM, Inverted Pyramid teachers evaluate admin
c) KS, Board looks at admin and the inverted pyramid. Changes made by Pres of college
d) JD, likes Bob's idea
e) TL, School board has important function in overseeing.
Grade the Superintendent
Jenn Donath C
Tiffany Larson, below a C,
Randy Marquardt, A-,
Bob Miller, C- or D+
Ken Schmidt, B+
There is a primary election Feb. 16 where the field of candidates will be trimmed from 5 to 4. The general election is April 5. In person absentee voting begins Monday, Feb. 1 and runs through Feb. 12.
Hat tip to Paula Becker for notes from forum