West Bend School District reviews facilities tonight for two possible future referendums
August 14, 2017 – West Bend, WI – The West Bend School Board will meet tonight and roll out its plan for facility reviews that could mean two referendums in the future; one will involve Jackson Elementary School and the other East/West High Schools. Details are below.
The board will also take action to ratify contracts for newly selected West Bend East High School principal Darci VanAdestine and newly selected West Bend West High School principal Ralph Schlass.
The meeting gets underway at 6:30 p.m. in the District Office and is open to the public.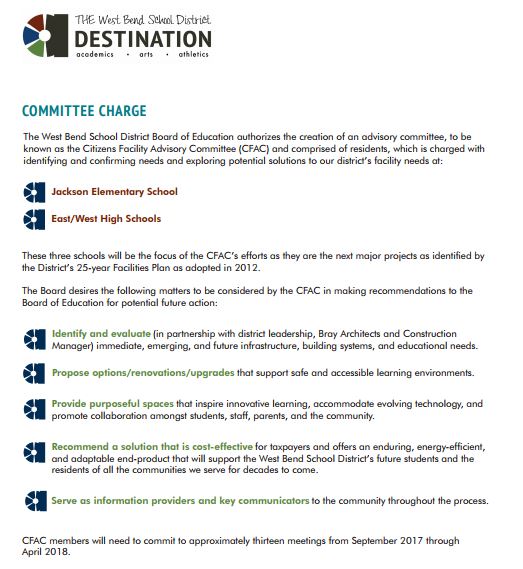 Click HERE to see the School Board Meeting Facilities Committee
On a history note:
Taking a look at the current referendums the West Bend School District is currently paying off….
In April 2009, voters in West Bend approved a $29.3 million plan to renovate, as well as build an addition to Badger Middle School.
In November 2012 the West Bend School District passed a $22.8 million referendum to close Barton Elementary School, expand Silverbrook School and add classrooms and a gym at Green Tree Elementary School. The actual total cost of the referendum with taxes and interest was $31.975 million with a 15-year payback on borrowing.
After the Nov. 2012 referendum passed the $31.9 million total was added on top of the $29.3 million payment for the 2009 Badger referendum.
The target date to completely pay off the debt on both referendums is 2029.
On a side note and for complete transparency: The city of West Bend will be conducting a citywide revaluation on all properties, both residential and business, in 2018.