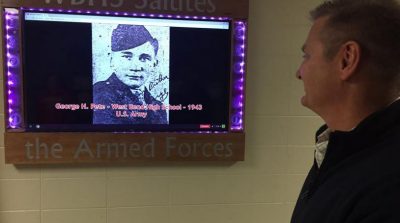 Nov. 11, 2017 – West Bend, WI – West Bend High School social studies teacher Scott Mindel is in the media spotlight on this Veterans Day as his story regarding a video project he started two years ago is being featured on CBS 58 in Milwaukee.
The story by reporter Evan Kruegel is titled "It's a labor of love": West Bend teacher honors veterans through unique video.
The story details Mindel's project. A portion of Kruegel's article is below.
Scott Mindel started compiling a list of alumni veterans in 2015, scouring social media and genealogy websites for information.
That list has grown from 225 names in 2015, to 1,650 this year.
"It's uncovering history, so that other people can learn from it," says Mindel. "It's a lot of work, but I call it a labor of love."
The social studies teacher doesn't have a military background, but decided 3 years ago he needed to do something to honor local veterans.
"I've had countless students of mine that have served, or are serving," he says. "I always get comments about how important it is to them to get that recognition, some of which they never got when they came back home."
Mindel has turned his list into a video, now nearly 2 hours long. It showcases names, pictures, and military information he can find.