October 8, 2022 – Washington Co., WI – West Bend West Spartan Varsity Volleyball Team played hard in their match against Hartford but lost in the end 14 – 25, 20 – 25, 26 – 24, 18 – 25.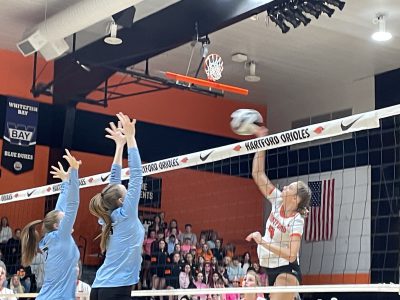 The first game started with West Varsity Spartans in the lead but ended in favor of Hartford, as did the second game.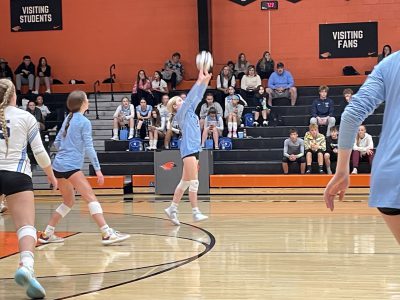 There was a strong comeback for the Spartans winning 26 to 24 in the third game filled with volleys and an anxious crowd.
Hartford Orioles won the fourth game with no let-up from the Spartans, who fought for every point until the very end.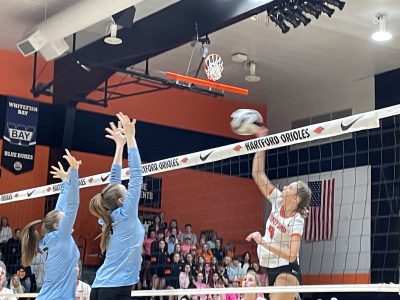 The girls played very hard with some amazing digs and saves. Megan Spaeth delivered 28 digs, Isa Fahrenkrug with 19, Kylee Altendorf, with 18, and Maddie Abel with 17 digs respectively.  Kylee Altendorf led the team with 17 kills and Freshman Emy Miller gave it her all with 13 kills, making some amazing plays throughout the sets. Maddie Abel also had 42 assists.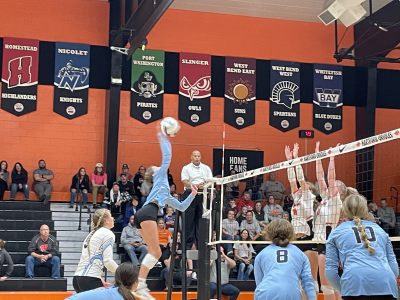 The girls worked hard until the last point and are ready to come back strong for their final conference game against Nicolet on Tuesday, October 11, at home starting at 7 p.m.
About the authors:
Abby Stockhausen is a junior middle blocker/right-side hitter at West Bend West. She has been playing volleyball for about 7 years. After high school, she plans on going to college to pursue a job in the medical field.
Briquelle Schnabel is a Senior right-side hitter at West Bend West. She has been playing volleyball for 7 years. Briquelle enjoys volunteering and working her job as a CNA and hopes to go to University of Wisconsin-Madison to major in Microbiology and Biochemistry.