West Bend Youth Football registration is March 15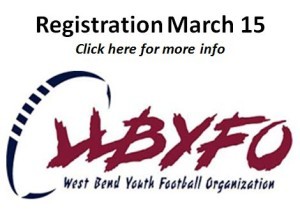 Registration for West Bend Youth Football League is March 15 at 1248 Lang St. starting at 5:30 p.m. The WBYFO is a tackle football league for 5th – 8th graders in West Bend School District.

Organizers are also gauging interest in a flag football league for 3rd and 4th graders.  Flag football would run in the fall, approximately the same time as 5th – 8th grade football.

One practice a week and games on Saturday.  More information at WBYFO.com