Fond du lac, WI – The Wisconsin Department of Natural Resources has a new lake sturgeon biologist.  Meet Margaret Stadig.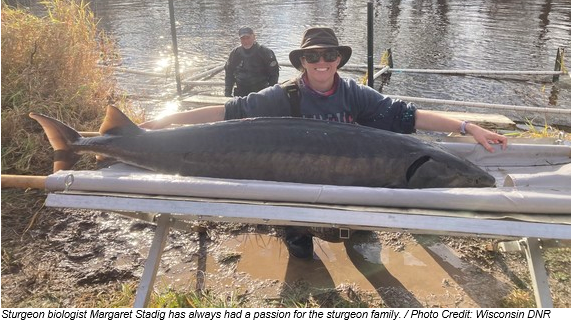 I took this last year to talk to many of you and absorb as much as I could about this species and the culture surrounding spearing and spawning in Wisconsin. While the previous five years saw me working as a fisheries biologist in Texas managing sports fish, I am originally from Detroit.
Right out of my undergraduate education, I spent two years with the U.S. Fish and Wildlife Service assessing the lake sturgeon population in the Detroit/St. Clair rivers as well as tracking their movement and creating new spawning habitat.
For the last five years, I have been a fisheries biologist in northeast Texas focusing on game fish management, including largemouth bass and catfish species. During that time, I was also part of the reintroduction program of the paddlefish into Texas waters.
The sturgeon family has continued to be a passion for me throughout my career, and I'm excited to work with the unique sturgeon population here in Wisconsin. I look forward to working and learning from many of you.  See you on the ice.