Wind chills dropping to dangerous lows. Blowing, drifting snow in forecast today. Watch for closings.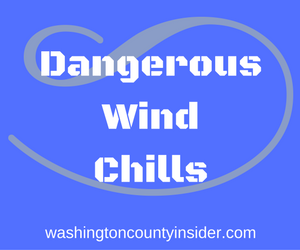 Dec. 18, 2016 – Washington County, WI – Today's frigid temperatures will bring a blast of dangerous wind chills across southeastern Wisconsin as we head into a cold snap following recent snowfalls topping 8-12 inches in some areas.
Wake-up temperature in the Washington County area as of 7 a.m. is -1 with a wind chill of -11 degrees; there is a wind chill advisory in effect until 10 a.m. Monday.
Wind chills are expected to drop to -20 degrees later in the day today; late night wind chills are forecast to be -25 to-30 degrees.
Watch for blowing and drifting snow all day today as winds are expected to gust from 10-20 miles per hour.
Exercise extreme caution is you must be out on the roads today.
Washington County Insider continues to monitor closings and cancellations throughout the day. You can look for updates in your area by checking out our "Closings" tab on our home page or by clicking HERE.