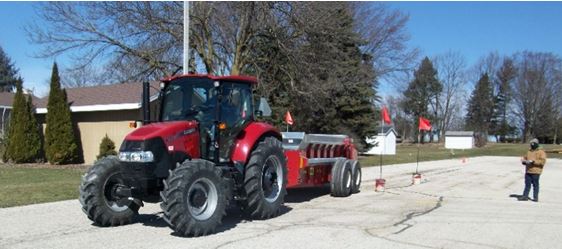 March 19, 2017 – Allenton, WI – The annual tractor certification testing was held at the Allenton Town Hall this month. The course is a part of a weekend series through the UW-Extension service.
Completion of the course and its activities allows young adults, at least 12 years of age, to learn about safety on the farm including: the safe operation of farm equipment, rules of the road, safe material handling, and safety in/around permanent structures including grain bins/ upright silos.
Members of Wisconsin Antique Power Reunion worked in partnership to gave back to the youth of Washington and Ozaukee Counties as seven dedicated club members braved the rather brisk elements and worked as officials for the certification test.
Successful completion of this program requires passing a multiple-choice test and driving test. The driving test allows students to apply what they learned in the class to real world situations in which they are evaluated on starting/ stopping of the tractor, proper safety operations, backing up of a tractor and implement into a simulated shed, proper turning, and other safety criteria when operation farm equipment.
This year we had the pleasure of working with and certifying 20 young adults. A special thanks to Bill Hinkley for arranging this activity and club members: Harly Phufal, John Skadahl, Rich Wagenknecht, Herb Lofy, Ed Bast, and our youngest member Alex Bast, who had completed this exact certification a mere two years ago.
Thank you for your service and dedication to educate the future youth in agriculture about the safe operation of farm equipment. The efforts put forth through this class will help to keep the agriculture communities of Washington and Ozaukee county safer, helping to reduce the number of farm related accidents/ injuries.
As a simple reminder to our community members in a few short months planting season will begin and farm equipment will again be sharing the road with all of us.
Be alert, slow down, and keep our roads safe!