GO Riteway spokesman Nate Hamilton said the deal is still in the early stages and more information will be released shortly.
"Wittenberger Bus is a great family owned company very similar to GO Riteway," he said. "Right now the Bast family is talking to company owner Fred Wittenberger."
Hartford City Administrator Steve Volkert said a deal between the transportation organizations makes sense. "Having a locally owned and operated bus company is very advantageous to the service you're going to received," said Volkert. "Hartford is glad it will still have a service and we wish the Wittenbergers the best moving forward."
On a history note: Wittenberger Bus Service has been in the family three generations.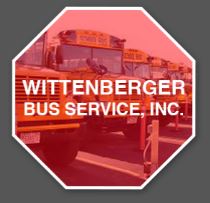 According to the company's website the business was started by Calvin J. Wittenberger in the mid 1940's. It was picked up by Calvin's son Gene Wittenberger and later by Gene's son Fred. Wittenberger Bus contracts with the Hartford School District and provides special education busing and extra curricular event busing.
According to the company's website, "Wittenberger Bus Service has been serving the Hartford area for over 60 years. Our longevity and success comes from developing a partnership with the schools we serve, providing assistance and helping them make the difficult decisions that face the educational system today. We accomplish this by providing a trained, responsive staff, and well maintained equipment. We strive each day to provide quality service emphasizing safety, efficiency and cooperation."
GO Riteway's origin also began three generations ago with Riteway Bus Service, Inc. in 1957. According to the GO Riteway website, "Over the next 60 years, it continued to expand and provide the best, most dependable and safest transportation for business travelers, tourists, students and local residents.
"Our fleet consists of school buses, motor coaches, shuttle coaches, limo coaches, executive sedans and vans. While we are based in Wisconsin, we also own Cardinal Buses in Indiana and will go anywhere in the United States."
Hamilton said a final notice on the transaction with Wittenberger Bus will be released shortly.
Wittenberger Bus Service had an inhouse meeting with staff Tuesday morning. Calls have been placed to owner Fred Wittenberger and more information will be posted when details become available.