Century Farmhouse Notes: Wrapped in Quilted Love | By Ann Marie Craig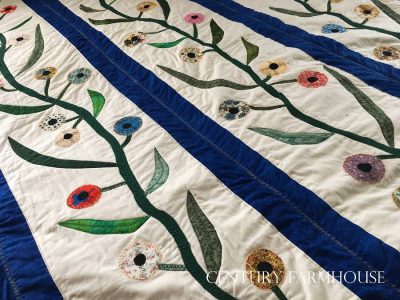 May 12, 2018 – Big Cedar Lake, WI –  It was another age; another time. Grandma Rosa lived in the house I now call home and created beautiful but useful things of fabrics that caught her eye and fabrics she had stashed – edges of mostly-worn cotton sheets, 1930s feed sacks, cast-off and worn shirts and dresses, and trimmings from other sewing projects.
She died when I was 19, and one of the last things she asked me to do was to finish a tablecloth she had barely started, using circles of fabric remnants placed in threaded squares. "Your Momma's busy and won't have time to finish it," she said to me. "You can do that."
So I threaded a needle with the orange cotton from Grandma's sewing machine drawer and carefully embroidered a blanket stitch around circles and more circles until her pretty tablecloth was complete. My stitches looked so unpracticed next to hers, but I loved the fact that we had in a way created that tablecloth together. I remember fingering the little fabric pieces, choosing colors and designs that appealed to me because of the memories they invoked and because they looked just right in their places on the cloth.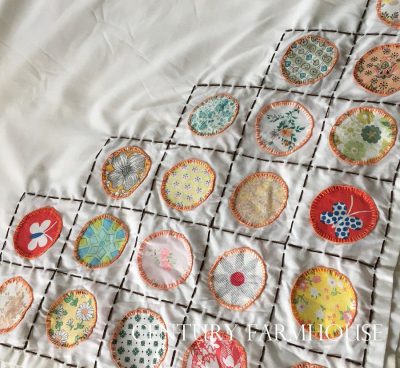 Forty years later, nearly 700 fabric circles remained in the box my mother took home from Grandma's house.
Yikes.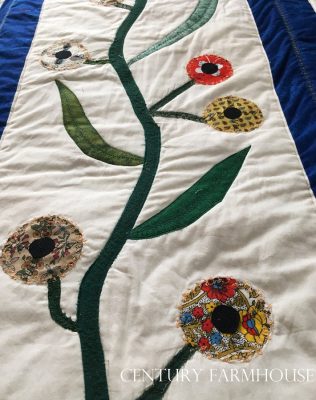 On this past Easter Sunday, my mother gifted me and each of my five sisters with…
Click HERE to read the rest of the story by Ann Marie Craig.