July 21, 2021 – Town of Polk, WI – Today is Military Day at the Washington County Fair and as is tradition on Wednesday morning local veterans and Honor Guard raised the U.S. flag at 9 a.m.
Below is the flag raising from 2017 featuring veteran Howard Knox on bugle.

Click HERE to see the full Wednesday schedule of events at the Washington County Fair.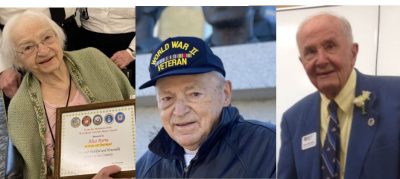 Also around noon local veterans will receive a Sheriff's escort to the fairgrounds and a roundtable discussion will be held inside the Ziegler Family Expo Building with WWII veteran Alice Byrne, 100, and WWII veteran Allan Kieckhaefer, 98, who who joined the Navy when he was 18 and fought at Iwo Jima, Saipan, Guam and Okinawa.
WWII Veteran Joe Zadra, 99, who fought in the Battle of the Bulge, is missing the ceremony because of a family issue.