May 5, 2021 – West Bend, Wi – Alice Byrne celebrated her 100th birthday on Tuesday, May 4, 2021. A resident at Cedar Bay West, Alice spoke about her days as a nurse during World War II, teaching in Chicago Public Schools and her love of the outdoors.
Alice enlisted in the U.S. Army in May 1944 when she was 23 years old. "One Sunday morning the Cleveland Plain Dealer came out with headlines this high," she said holding her hands about 5-inches apart. "The paper read, 'Congress to draft nurses,' so we put our heads together and decided you get drafted you go in as a private and if you enlist you went in as a second lieutenant. So guess what we did…."
Alice, who already had earned a master's degree, was scheduled to be a chief nurse of a MASH unit. "That's what they told me but when I got to Kentucky for staging the old Lt. Colonel at the hospital looked at my credentials and she took me out of her unit and put me in the regional hospital. It was work but it was 3,000 patients and we did not have nights off during the month. It was a good experience and I worked hard … I was 23 and I loved it," she said.
Originally from Cleveland, Alice ended up in Louisville. "One thing that impressed me was the quality of work by the POWs," she said. "They were happy for their jobs and they were qualified and knew what they were doing."
In service for a year and a half, Alice spoke matter-of-factly about the event in August 1945 that finally ended the war with Japan. "Harry dropped the bomb.. that finished the show," she said. "Harry might have been just a farmer but he stopped a big war."
Click HERE to read more about Alice Byrne's history in the US Army
Local veterans Donna and John Kleinmaus presented Alice with a West Bend Color Guard certificate from the Lt. Ray Dickop Post 36, in West Bend.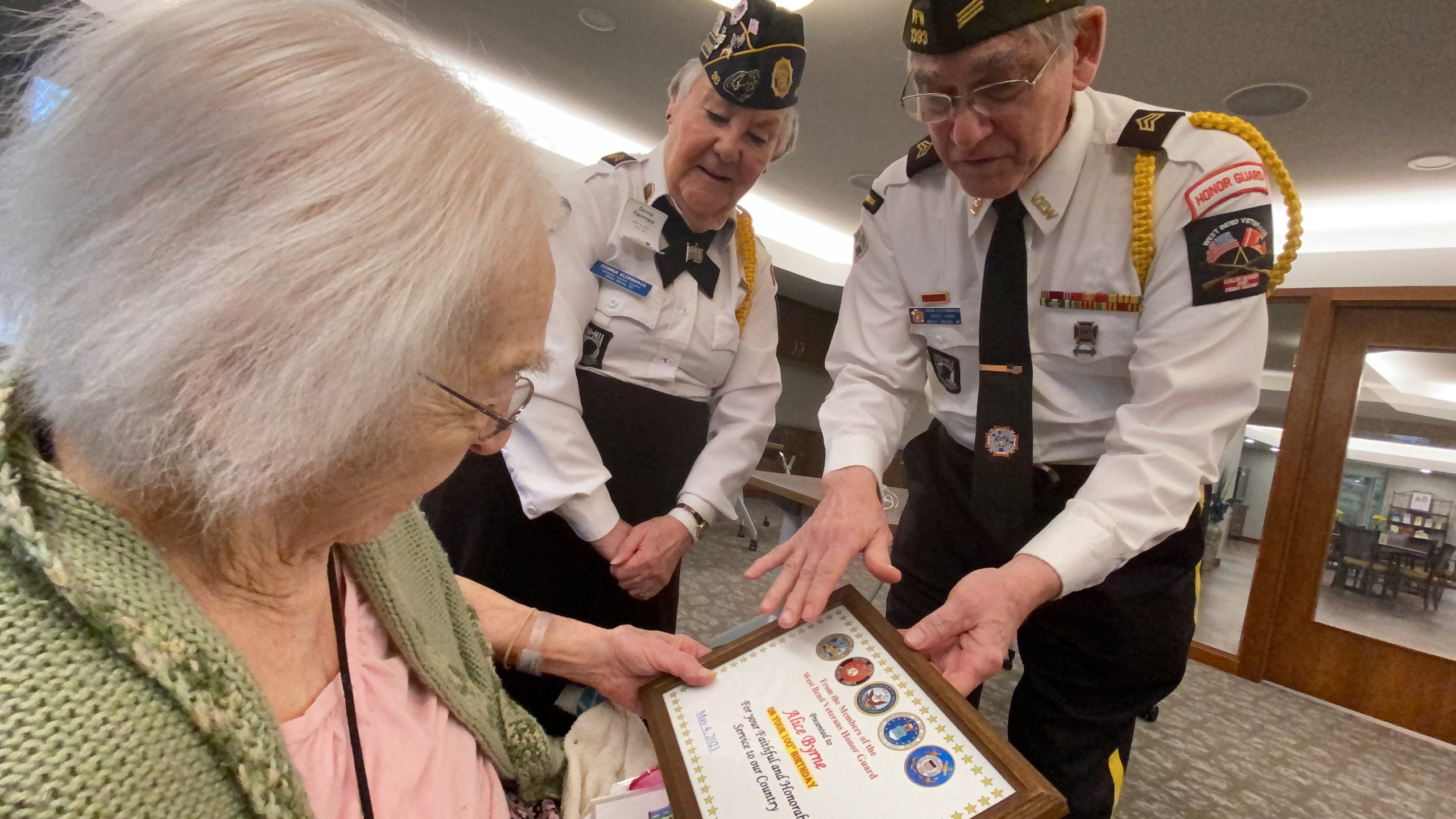 "What's nice about this is I was always proud I was in the service," said Alice.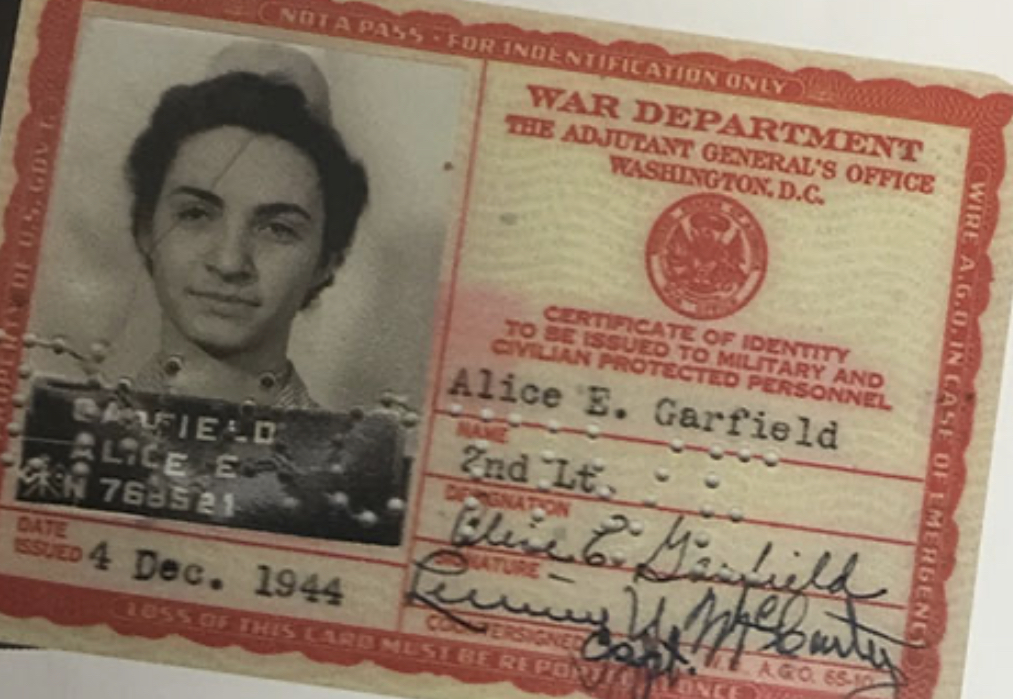 Below are some of the well wishes included in a gift to Alice. Please feel free to wish her a Happy 100th Birthday. On a side note, Alice is very fond of purple violets and she resides at Cedar Bay West on Highway Z.
HAPPY ~ HAPPY ~ BIRTHDAY TO YOU ALICE
What an historic time mark!  CONGRATULATIONS on 100 yrs!!
We have just under 30 years to meet this landmark!
MAY  GOD  CONTINUE  TO  BLESS  YOU!!!
What a pleasure it has been visiting with you these years past and never long enough to get your whole story.  I know you are so proud of your service, and know you would have wished to go over seas, but your Nursing orders and duty station was very important to the Cause.
THANK YOU FOR YOUR SERVICE!!!
JOHN AND DONNA  KLEINMAUS "LITTLE MOUSE"
LeAnn Boudwine  Sending love thank you for your service ma'am!!
Jodie Vakeva Kirk  What amazing sights and accomplishments this lady must have experienced. I am envious and wish i had a moment to sit and talk with you Ma'am! Thank you for your service, your courage and Happy HAPPY Birthday!!
Lorelei Krogmann  Happy Birthday
JoelandCarol Hausmann  Happy Birthday
Valery Brussat  Wishing you the happiest of birthdays! Thank you for your service as well.
Debra Rammer   Happy Birthday Young Beautiful Lady
Celia Spiropoulos  Happy Birthday
Laura Coffin Happy Birthday!
Happy Birthday Alice! Thank you for your service Alice Bryne.  Because of you we all live free and safe in the beautiful United States of America.
James G. Pouros, a fellow veteran,
Circuit Court Judge
Washington County
Dear Alice,
Many Happy Birthday Wishes to You, Ma'am. From one WAC to another, Thank You For Your Service!!!
With Respect,
Sharon L. Prag U.S. Army 1976-1978
Dear Alice,
I would like to wish you a Very Happy Birthday! 🎁🎂🎉🎊🎈 You look Wonderful!  😊 I hope you have a Great Day!!  Thank you for your service for our country! I'm very happy to have this opportunity to thank you.  Have a Wonderful Day! 💖💖
Love,
Debbie Noecker 
Happy Birthday and Thank you for your service.  Enjoy your very special day!.  
Lisa and Paul Kleinmaus
Happy Birthday!  You are and amazing inspiration for all of us!  Thank you also for your service.
Aleisha Jordan and Family
Deb Esselman Happy birthday
Louanne Haley Knupp Birthday blessings to you! Thank you for your service!
David Christopher Green God bless!
Jenny Vickery Happy Birthday and God bless! Thank you for your service!
Patricia Buttrey God bless you and thank you for your service!
Karen Blashka  Happy birthday to an American heroine. God bless you
Wishing you a very happy birthday from Arizona, Miss Alice!
John and Jo Passet
SSG C.Bag.
OIF GA & WI-ARNG HD Vet.
Alice,
Happy happy 100th birthday!! What an amazing milestone. I hope you have a wonderful day.
Thank you for your service as a WAC during WWII. The service you and your fellow WAC's provided to this country is
immeasurable and an inspiration to generations of servicemen and servicewomen that followed your magnificent example.
God bless you! ❤️🇺🇸
Kent Rice
US Army, 1968-71, Vietnam
Dear Alice –
Wishing you the happiest of birthdays as you turn 100 years old! I am a board member with Stars and Stripes Honor Flight and on behalf of our entire team we would like to say Thank You For Your Service!
I hope that you enjoy this most amazing milestone and that you know how much you are appreciated.
Happy 100!
Christy Julius
Stars and Stripes Honor Flight
Hi Alice!
Happy birthday to amazing you! You stepped up to serve our great country when it was rare for women to make such a sacrifice. My family and I are so grateful for your service and to you for being a trailblazer for women everywhere.
Have a fantastic birthday, and cheers to our newest centenarian!
With love,
Karyn Roelke and family
Hartland, WI
Hi Alice:
Happy 100th Birthday to you!  It was a pleasure meeting you on Veterans Day a few years ago, and your story was an inspiration to all of us on the West Bend Veterans Honor Guard!   I wish you all the best as you celebrate your historic birthday.  Thank you for your service to the country during a very difficult time in our nation's history.  God Bless you! 
Warm regards,
Jim Geldreich
U.S. Army Veteran
West Bend, WI
Thank you for your service in the Womens Army Corps for our great country.
The happiest of birthdays to you on your 100th.  I pray that God continues to bless you.
Have a big slice of birthday cake.  You've earned it.  
For God and Country
Steve Rohde
Sons of the American Legion/American Legion Riders