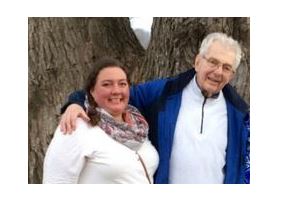 March 10, 2017 – Allenton, WI – Herb Ellis and his daughter Alina were a pretty high-profile pair in the educational arena in Washington County.
Herb was a retired teacher in the Hartford School District and Alina ran an extremely popular in-home nanny care business called The Hoot House.  It's the impact they had on families and children that makes their deaths last week even more difficult to swallow.
On March 2, Herb Ellis, 79, and his daughter Alina, 38, died after complications from different forms of influenza. The real anomaly, according to Alina's older sister Carine Krull, is that Alina and her dad were born on the same date, June 8, and they died on the same day.
 "This was absolutely unexpected," said Krull. "When I talked to them Tuesday night Alina had the flu and dad had a cough. Two days later they're in heaven together; I'm just blown away."
The family of Herb and Alina Ellis are overwhelmingly touched by the outpouring of support from the community and as they prepare a Saturday service, Krull said they are also  working to take a tragic event and turn it into a memorable legacy.
Leaders in education…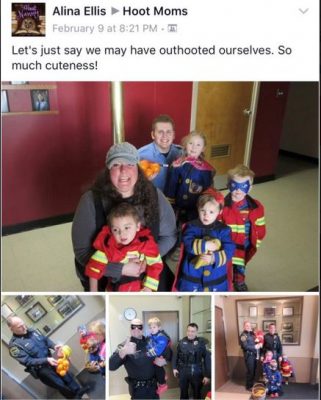 During a one-on-one conversation Thursday night Krull described her father as "a teacher at Hartford High School forever."
"He was very well loved and respected; he was quite the character very dramatic and really good at his job," she said.
Sister Alina was "a nanny who just loved, loved, loved children."
Krull raved about her sister's in-home nanny care, The Hoot House.
"It just wasn't like a regular child care. She had full-on lesson plans and on superhero day they had firemen outfits and capes and they'd visit the police department," she said. "During the letter 'P' week they'd stop at Sal's Pizza and learn how to make pizza and play with the dough."
Riveredge Nature Center, MOWA, and the West Bend Public Library were some of the normal stomping grounds for the Hoot Nanny and her owlets.
"People who were lucky enough to be part of this program – it's like the most magical thing in the world," said Krull.
Keeping the Hoot House memory alive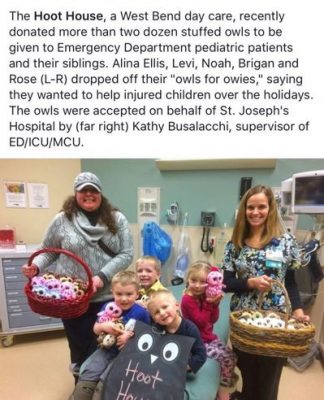 Krull said Alina and her dad were like "two peas in a pod."
"We are a very close family," said Krull. "Dad took care of mom and Alina took care of both of them."
In an effort to keep Alina's passion of giving alive, Krull is working to continue her Owls for Owies program.
"Alina's approach with children was about love and compassion," she said. "Just the idea of helping others."
Up to the very end, Krull said Alina helped. "She was able to donate her heart and kidneys to bring a new outlook on life to three individuals," she said.
"The St. Luke's team worked really hard to make that happen. The staff with the Organ Donor Network was so kind to our family."
Alina's favorite program was The Owls for Owies. "Every year she'd collect money and they'd take the stuffed toy owls into the hospital at St. Joe's and donate them to the sick kids," Krull said.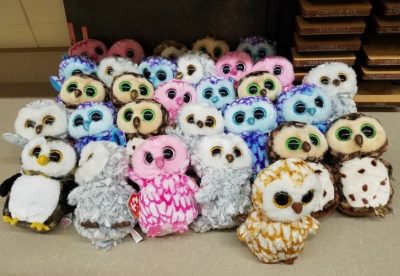 In an effort to continue this program and grow Alina's legacy, Beanie Boo Owls or funds to help the program are being collected. Questions can be addressed to:  [email protected]
A memorial service in honor of Alina and Herb will be held Saturday, March 11 at 2:30 p.m. at Immanuel United Church of Christ, 501 Walnut St., West Bend.  The family will greet relatives and friends at the church on Saturday from 11:30 a.m. until the time of service.