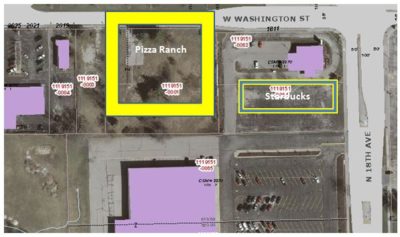 March 10, 2017 – West Bend, WI – A quick rundown of some Plan Commission approvals and construction in the city of West Bend.
During this week's Plan Commission meeting a green light was given to a new easement for Pizza Ranch. The driveway on the south end of the property was moved to the west. Stacy and Matt Gehring are expected to close on the purchase of the property on W. Washington Street in the coming weeks. The builder expects construction to get underway shortly with the restaurant open later this summer.
The Plan Commission also quickly approved a new oversized LED monument sign for Hawthorn Drive at Sixth Avenue. The LED sign is 40.7 square feet and one of the stipulations is the sign will have an automatic dimming effect to reduce glare at night.
Finally, traffic will be rerouted starting Monday, March 13 as underground utilities will be installed between Franklin Place and Rusco Drive; work will run until the beginning of April.  Rusco Drive will be closed to through traffic periodically during construction.
The general contractor for this project is Vinton Construction Company from Manitowoc, Wisconsin.  There will also be a number of subcontractors working at various times during the project.  Rusco Drive Utility Extension will include sanitary sewer installation, culvert replacement, Rusco Drive roadway patching and restoration of disturbed areas.
Motorists are reminded to abide by all traffic control signs and devices as well as be aware of ongoing construction activities.  Alternate routes should be planned to avoid construction whenever possible.