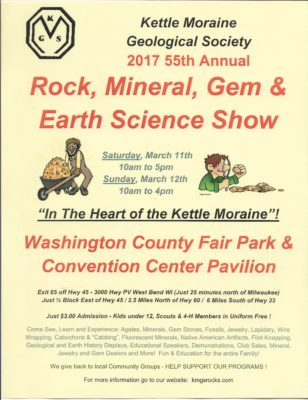 The Kettle Moraine Geological Society (KMGS) is holding its 55th annual show

March 11 and 12 at the Washington County Fair Park.
The event will feature club speakers, demonstrators and a variety of displays.

 
For the schools, the KMGS is a valuable resource for earth-science curriculum.

 
Washington County 4-H is also developing a program to add to its curriculum.

 
More about our club and show can be found on our website: kmgsrocks.com and our Facebook page.
Shows are family friendly and it is a fantastic opportunity to share information.