A generous donation from customers of Bob's Main Street Auto & Towing | By Rachel Espitia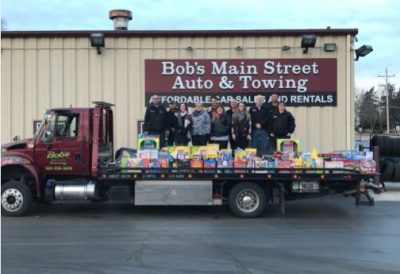 Dec. 16, 2017 – West Bend, WI – The holiday season is the time to give to others, and spread cheer, and Bob's Main Street Auto and Towing did just that.
Throughout the month of November and the beginning of December, Bob's Main Street Auto and Towing has been collecting money and toys to donate to Family Promise of Washington County, an organization in West Bend that helps those less fortunate and at risk of homelessness in our community.
Family Promise's big event for the holiday season is 'Elf Land', which provides gifts to local families who can't afford to purchase gifts for their family.
Bob's Main Street Auto and Towing saw the opportunity to help and held a simple promotion where a customer could donate a new toy or cash and in return receive a free tire rotation or new windshield wipers.
Through this promotion, the company was able to receive over $1,040 worth of donations. In addition company owners matched the donations to provide Family Promise with a grand total of over $2,000 worth of toys.
Bob's Main Street Auto and Towing would like to thank all of their wonderful customers for their loyalty and support for these promotions.
The generosity of the community has truly shown once again and they would like to wish everyone a great holiday season.
Pictured is one of Bob's Main Street Auto and Towing's tow truck filled with toys along with the owner, Laurie Rate, employees of the company, and employees from Family Promise.