West Bend's favorite coach is in need of some prayers as Rick Riehl has been diagnosed with Creutzfeldt-Jakob disease (CJD).
According to the Centers for Disease Control and Prevention it is "a neurodegenerative disorder. This disease is rapidly progressive and always fatal. Infection with this disease leads to death usually within one year of onset of illness."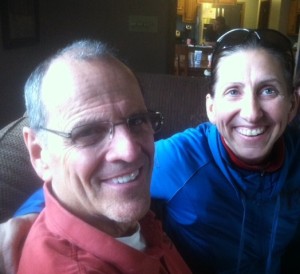 "We're going day to day and we find something to be thankful for," Donna Riehl said. "We have a huge contingency praying for us and the prayers are felt, it's pretty amazing."
During the past two days the Riehl household has been full of friends and family as word of Rick's illness spreads.
"There's been a lot of folks who have expressed support and now that the word is out that he has a terminal illness there's surprise and shock and sadness," said son Tyler Riehl.
The family decided to make public that Rick is believed to have CJD.
Riehl is a former long-time English teacher at the West Bend High Schools and has a tremendous basketball history that's been recognized across the state.
A former Wisconsin High School Basketball Coach of the Year, Riehl put together a 334-169 mark with five conference crowns, 10 regional titles, and two State Championships in 27 seasons as a high school coach in multiple sports.
Riehl coached the West Bend East girls basketball team to its only state title in 1984.
Full disclosure, Riehl was my former coach at Don Gosz basketball camps. During a visit on Sunday we reminisced about players like Kathy Bennett from UW-Green Bay, Jenny Sell and Penny Gerner.
Rick was sharp and the team names and nicknames came easy.
Conversation turned to his upcoming award, Nov. 7, when Concordia University will dedicate the press box at Tomasini Field in his name.
"I love the concept," said Rick.
Word also slipped that Rick is being nominated for the Hall of Fame at the West Bend High Schools and by the Wisconsin Basketball Hall of Fame.
"This is an honor long overdue," said Tyler. "I don't think there are many kids that can say they grew up with a dad who affected thousands or tens of thousands of people. I consider myself very fortunate to have a living legend as a dad."
At the Riehl household on Monday, teacher friends and former players and coaches are calling in well wishes, dropping off meals and offering hugs and prayers to Rick and Donna and the family.
"It's a lot easier to be here than long distance and hearing updates," said Tyler. He and his wife and daughter flew in from Colorado last week.
Donna is gracious, if not a little tired and overwhelmed.
"We need to be strong for him," she said.
More details on Rick and his CaringBridges site are at http://www.caringbridge.org/visit/rickeyriehl