September 9, 2019 – Allenton, WI – At the recent monthly meeting of the Allenton American Legion Fohl-Martin Post 483 a check was presented to Chuck Dodge of the Horicon Marsh Veterans Hunt.
This is the third year the post has supported this unique experience for veterans from around the country.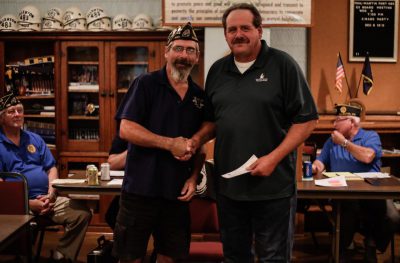 Legion Commander Rodney Delcore with Chairman of the Horicon Marsh Veterans Hunt, Chuck Dodge of Allenton. The $1,128 donation will help with the three-day event, October 25 to 27.
A portion of the money came from the tip jar the veterans placed at the annual Allenton Picnic and the remainder is the matching portion from funds the Legion Post raises at its fundraiser throughout the year.
The Horicon Marsh Veterans Hunt mission is: "… to give our American heroes a weekend of guided duck hunting on the storied Horicon Marsh, home cooked meals, brotherhood healing and sincere gratitude for everything they have given us. Thanks to the generosity of donors, to date we have been able to provide 10 annual duck hunting weekends filled with relaxation, laughter and healing to our American heroes. And some years, even a duck or two."