American Legion Post 36 presents annual Public Safety Awards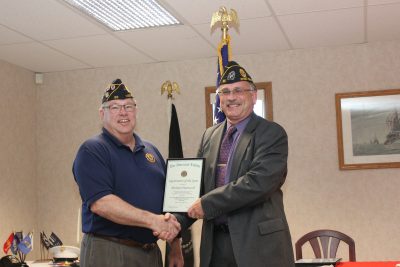 June 8, 2017 – West Bend, WI – This week the Lt Ray Dickop Post 36 of American Legion gave out its annual public safety awards and recognized the Legionnaire of the Year.  The recipients are selected by their peers and supervisors, not necessarily for a specific act of bravery or heroism, but typically for the selfless service and involvement in the community as well as their department.
Robert Schafer of the West Bend Fire Department was selected as the EMT of the Year.  Lieutenant Schafer is licensed at the highest level as a EMT-Paramedic. Schafer was recently appointed the Washington County Medical Examiner.
Kyle Demler of the West Bend Fire Department was selected as the Fire Fighter of the Year.  Demler was recently promoted to Motor Pump Operator.
Andrew Nielsen of the West Bend Police Department was selected as the Law Enforcement Officer of the Year.  Sergeant Nielsen is a patrol sergeant on the night shift of the Police Department and one of the departments firearms instructors.
Micheal Hartwell of Post 36 was selected at the Lt. Ray Dickop Post 36 Legionnaire of the Year.  Mike was recently elected to the position of Post 2nd Vice Commander.
 Brian McDonald with the Legion Post in the pictures presenting the awards.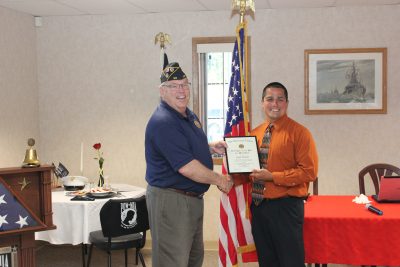 Kyle Demler, West Bend Fire Department, has been selected to receive this year's Fire Fighter of the Year Award.
Demler started his fire fighter carrier at only 18, right after graduating from Random Lake High School as a volunteer Firefighter with Random Lake Fire Department.  He began attending Milwaukee Area Technical College for a fire science degree.
He also worked full time at a printing company, taking firefighter certification classes, EMT licensing courses and volunteering as parade chairman for Random Lakes' annual parade/picnic.  And throw into all this – a girlfriend….   Well it all worked because he graduated from MATC and Jessica is now his wife.  He continued his education adding hazmat classes to his résumé and obtaining an EMT-Paramedic license with the goal of becoming a full time firefighter.  All this enabled him to accept a position with the West Bend Fire Department in 2008.
Even after being hired as a full time firefighter, Demler continued with advanced classes to assist his knowledge and helping to provide the best fire service to the community.  He has been involved in volunteering with community projects in the area.  While working at such a project, building a playground for special needs children, an elderly man collapsed and Demler assessed the situation and began CPR.  The gentleman came around and was transported to the hospital and diagnosed as have had a heart attack.
Demler was recently promoted to Motor Pump Operator making him responsible for getting the crew safely to calls and operating and maintaining the fire apparatus as well as normal firefighter duties.
Most recently, September, 2016, the fire department responded to a call of a home basement explosion/fire with a special needs young lady trapped in the basement.  They were informed where the victim was last seen; assessed the situation, which was worsening fire and structure integrity deteriorating.  Demler along with last year's Fire Fighter of the Year Lt. Alan Hefter put these conditions aside and headed down the basement stairs.  Demler located the girl unconscious on a couch.  He grabbed the victim and together they extricated her from the house.  She spent a couple of weeks in the hospital but is doing well today.
To quote from Demler's letter of recommendation from Battalion Chief Todd VanLangen, "Kyle is a devoted family man who has been working hard to keep our community and the residents' safe … our department is proud to have him for the dedicated professional that he is.
Lt. Ray Dickop American Legion Post 36 proudly awards Kyle Demler this year's West Bend Fire Fighter of the Year Award.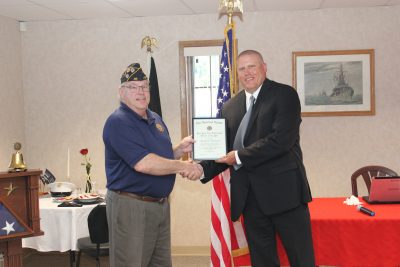 This year's West Bend Law Enforcement Officer of the Year Award goes to a 14 year veteran of the West Bend Police Department.
Sergeant Andrew Nielsen started as a Police Officer with the West Bend Police Department in 2003, was promoted to Sergeant and is currently a late shift supervisor.  He is also the Assistant Team Leader for the department's Special Response Team.  Nielsen has earned a Bachelor's Degree in Criminal Justice and completed Recruit School at Waukesha Technical College.  He has obtained training in several specialized services and he has utilized this training not only to enhance his work performance but to help train other police officers.  He is a Unified Tactics Instructor helping to keep the department's personnel current and proficient in its normal duties as well as special and criminal incidents.
Nielsen is active in working with the department's Special Olympics activities and the Shop with a Cop Program.  He works with West Bend's Crime Prevention Patrol, a citizen group that works with the police department on crime prevention.  Outside of work, Nielsen and his wife Krista have two children, Katelyn age 9 and Isaac age 7, which keep them very busy as they are becoming more active in numerous activities.  He is also a member of the West Bend Chamber of Commerce helping to promote the attributes of the City of West Bend.  He has volunteered to work at the American Cancer Society's annual Relay for Life Fundraiser.
To quote Chief Kenneth Meuler, "Sgt. Nielsen leads with a quiet yet firm demeanor and always puts his officers' needs ahead of his own."  Such as:  In April 2016 Sgt Nielsen took control of an incident in which an armed suicidal subject had another captive and fired a gunshot round in a house.  Sgt. Nielsen's actions insured the incident ended safely for everyone in the area.  Then again in October, 2016 an armed intoxicated man fired several shots in a city neighborhood.  Sgt Nielsen was in control of the chaotic scene and organized evacuations and arranged for all needed resource to the area.  After five hours of negotiation the subject was taken into custody without any injuries to anyone involved.    Quoting the chief again, "While sensational examples, these cases are indicative of Sgt. Nielsen's leadership skills and calmness under pressure."
Nielsen has demonstrated extraordinary dedication to serving the citizens of West Bend and the Police Department in his everyday law enforcement work responsibilities and his leadership in stressful situations.  He is a valued asset to the community and the Police Department and Lt. Ray Dickop American Legion Post 36 proudly awards Sgt. Andrew Nielsen this year's West Bend's Law Enforcement Officer Award.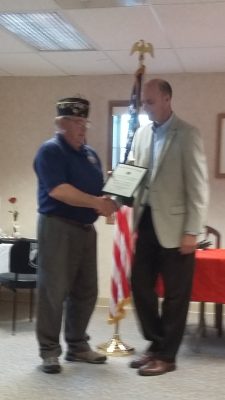 This year's American Legion Post 36's EMT of the Year Award goes to Robert Schafer Sr.
Lieutenant/Paramedic Schafer started his career as a Paid on Call Firefighter giving up employment as a computer programmer and technical illustrator.  He advanced through all stages of Wisconsin EMT certifications to the highest EMT license, EMT-Paramedic and is nationally credentialed as an EMT – Paramedic through the National Registry of EMT's.  He has completed a two year college pre-med course and has a Bachelor's Degree in Health and Wellness.
Schafer was one of the first EMS personnel from West Bend to attend "Community Paramedic" training.  With this training, he meets and helps to provide health assistance to citizens with health care issues hoping to avoid an ambulance ride to the emergency room.  Rob continues to work with the Community Paramedic program as it expands in the city and the surrounding area.
Schafer has recently been appointed as the Washington County Medical Examiner.   As such he investigates the cause of deaths in the county and issues death certificates.
Schafer is a resource for his co-workers as he is always eager to share his knowledge so that others might learn.  He works with the department's ride-along/proctoring program for EMS-Basic students and those preparing to test for advance EMT certifications.   He is involved with public education programs and addressing different organizations in our community as to the critical importance of knowing how to perform CPR.   He has volunteered to work at community fundraising events such as Muscular Dystrophy Association.
Lt. Schafer is a most deserving recipient of the American Legion EMT of the Year Award for West Bend.  His supervisor along with Chief Kudek indicates that Lt. Schafer has always demonstrated a professional attitude while insuring the West Bend Emergency Medical Services are of the highest caliber.  Schafer has been a great asset to the department and community through his continued advanced education and by his dedication to his EMS duties.
Lt Ray Dickop American Legion Post 36 proudly awards Robert (Rob) Schafer this year's West Bend Emergency Medical Technician of the Year Award.