Anonymous donor commissions bronze sculpture for new West Bend Health Center | By Tim Olsen
January 30, 2020 – West Bend, WI – A new bronze sculpture of a little boy and a physician will greet those entering the new Froedtert & the Medical College of Wisconsin West Bend Health Center.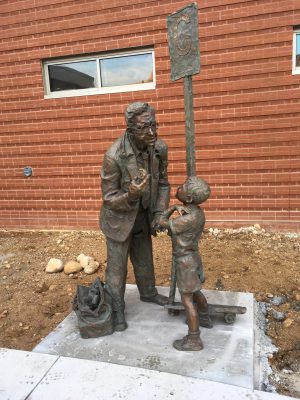 The sculpture was made possible due to the generosity of an anonymous donor to the Froedtert West Bend Hospital Foundation. The sculpture ― titled, "Can You Fix This?" — was created by Iowa artist Jane DeDecker.
It depicts a boy asking a physician to fix his scooter that lost a wheel while the physician is looking at the boy's skinned elbow. Included is a sign with the letter "C" for "clinic" that represents the new health center for those coming to receive care at the facility.
The anonymous donor has previously purchased equipment for the hospital, as well as needed wheelchairs for Pleasant Valley Health Center
The artist, Jane DeDecker, a native of Loveland, Iowa, specializes in bronze work, and her pieces often feature family groups or children. Her other selected works include Statues of Harriet Tubman in Georgia, Michigan and Arkansas; Fountain at Cerritos Sculpture Garden in Cerritos, Calif., and works in the Dale Nicholson Sculpture Garden in Little Rock, Ark.