Around the Bend – Updates & Tidbits By Judy Steffes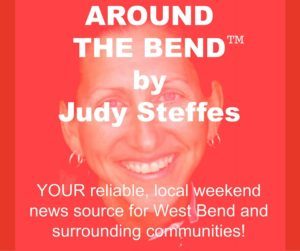 April 29, 2017 – Washington Co., WI -Wednesday, July 26 is Senior Citizens Day and Military Day at the Washington County Fair. Special discounted admission for ages 60 and older is $5 for the day as well as Sunday, July 30. Also, any card-carrying military person and a guest are admitted FREE on Wednesday, July 26. This year the Washington County Fair Military Committee will be recognizing all Women Veterans and Gold Star Families. Washington County Fair would like to thank Delta Defense for its support of Military Day at the Washington County Fair.
– Students from Central Middle School in Hartford dropped off over 95,000 items at the Goodwill West Bend Store and Donation Center on Friday. The students hope to earn a visit from former Green Bay Packer Donald Driver on May 22.
– Word traveled fast across Washington County over the weekend about the death of Richard Rosche, the former owner of Links Hideaway in Jackson and Links II in Kewaskum. Rosche was killed in an accident last week Friday morning in Illinois.
– The Hartford Police Department is investigating several instances of individuals passing counterfeit $100 bills. The bills look authentic except for the fact they say "For Cinema Use Only" in several spots on the front and back of the bills.
– Volunteers with West Bend Firefighters Local 2025 and members of Friends of West Bend Park & Rec took advantage of the nice weather this week to pack up what remained of Enchantment in the Park.
– Holy Angels School in West Bend salutes the March Students of the Month including Ellie Eckert, Ericka Beistle, and Andrew Glaszcz.
– There's music and food and a live auction at the 11th annual Samba Chicken Dinner on Saturday, May 13. Tickets are available at Romie's BP in Allenton, Landmark Credit Union-Hartford, Bergmann's Appliance in Slinger or from any music director at Slinger High School.
– First Bank Financial Centre in West Bend recently made a nice donation to the Downtown West Bend Association for its Concourse Bike Race. The money will fund the Kids Roll.
– This was the second best year for the most cans collected at American Metal & Paper Recycling during Earth Week with a total of 157,284 pounds. That's about 5.33 million cans.
– Grace Braeger, AKA 57 Lady, is featured in the latest edition of AggressiveCars.com Grace can be seen in her 1957 Chevy Bel Air tooling around West Bend. She's also popular at local car shows.